Having a portfolio website is a great asset in promoting products and services.
Let it be a product that you sell, a service you provide, your awards and accomplishments, or successful previous projects; a portfolio website can make light work of showcasing your skills and advantages.
A well-established portfolio site leaves a high impact on the type of clients you attract and works like a charm in increasing revenues.
WordPress is the perfect choice for starting a low-cost and professional website.
No matter if you are a graphic designer, web developer, content writer, or an artist, starting a portfolio website of your own is as easy as pie.
All you need is a proper WordPress portfolio theme and a few hours to make it customized.
Here we are going to show you the way you can start such a website and introduce some free and premium themes that best match a stylish portfolio website.
How to Start a Portfolio Website with WordPress?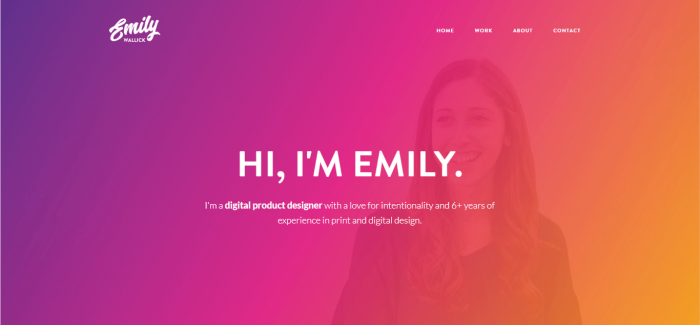 Let's start at the beginning of launching a site from the ground up and the necessary steps to take:
1. Choosing a Hosting Service
Similar to starting any other site, the first step would be choosing a proper host.
We don't intend to take a deep dive into the features and characteristics of hosting service, but there are general things to keep in mind before choosing a service.
Security is the foremost quality of web services.
A reliable hosting service should offer you up-to-date and accessible security features to keep you safe from hacks and other security threats.
Scalability is also another vital factor that should be taken into consideration for long-term purposes.
Your website grows over time, undoubtedly, and you will have to handle a more significant number of visitors every day compared to what you have in the beginning.
Therefore, your plan should be capable of upgrading and support better services.
A good support team can also come in handy while managing a website since there are always some unpredictable issues to occur.
In fact, it is a critical quality because the issues with sites should be addressed right away to avoid losing potential customers and SEO rankings.
This step can vary based on the hosting service you choose. Many hosting service providers offer special packages that come equipped with a simplified one-click installation of WordPress.
However, the primary process is almost similar in all approaches.
You can download the WordPress core from its official website and install it on your site manually.
Regardless of the way you set up WordPress, the final stage would be entering the created username and password to log in to your admin panel.
Once you enter the admin panel, you are ready to create your portfolio site:
Themes control the overall appearance of your website.
You should choose one with proper options and visual elements that feels right for you, and that's why we are going to go through an introduction of the best WordPress portfolio themes here.
Installing a theme on WordPress is straightforward.
All you need to do is heading over to Appearance> Themes and clicking Add New.
You can either upload a product or choose from the list of WordPress themes that appears:
Although dealing with different themes entails the same issues, spotting the best one in the first place and expanding the website over time seems to be the best decision.
Free WordPress Portfolio Themes
Instead of spending time and money on hiring skilled programmers and designers to build a website from scratch, you can use one from the available products with a good reputation.
While some reliable and advanced themes don't have a free version to use, we can still find appropriate free products for a portfolio website between them.
Neve is a great theme to show your skills and abilities in style.
Its clean and minimal design lets your visitors pay close attention to your portfolio and successful previous projects alongside the customer testimonials on your site.
By using this mobile-friendly and AMP-ready theme, you can be sure that your content looks great on other devices as well.
There are also some additional features in the theme, like Blog Booster, that bring you more optimization and customizability.
Additionally, the theme has different demos designed for various portfolio designs, such as Freelancer and Creative.
This item is a minimalist WordPress portfolio theme that can match the requirements of both personal and corporate portfolio websites.
Portfolio Web is equipped with some widgets to let you design the homepage and other sections in a trendy look.
The homepage has a slider by default that makes it more appealing, and you can enjoy it further with the help of the provided color, background, and breadcrumb options.
Portfolio Web is a great asset to build trust for yourself in a short time.
The Sydney WordPress portfolio theme is officially recommended by the Elementor website.
It is a completely free and responsive theme with front page blocks that help you make a professional design for your portfolio most easily.
Personalization of elements is available in a straightforward approach without a need for in-depth technical knowledge.
It is translation-ready, meaning that you can easily present your content in other languages as well.
The provided parallax background images make Sydney look like a paid product.
You can either choose from stylish sliders or static images for the homepage and increase social interactions without any other plugins.
Airi is another minimalistic WordPress portfolio theme that is fully integrated with the widely-used Elementor tool.
If you plan to sell products and services on your site, it is an appropriate choice, thanks to its compatibility with WooCommerce.
Airi is easy to customize, and changing the colors, fonts, and backgrounds can all be done in a few simple clicks.
Moreover, the pre-made demos make it easier for you as a starting point to build a perfect website for your portfolio.
Similar to previous products, Airi is wholly responsive, and you can use it for other languages, too.
The Phlox theme is a modern and lightweight product that you can use for different purposes, including a portfolio.
This product has multiple benefits, such as being extremely fast, translation-ready with RTL layout, and excellent optimization for search engines that make it a proper choice among others.
You can choose a demo from 19 prepared designs and import them shortly using the dedicated quick importer.
The developer team, who had previously gained fame for the "Master Slider" project, publishes regular updates for Phlox, and it has a complete GDPR compliance.
Similar to previous items, this product is also integrated with Elementor, so you can be assured that modern layouts are at your fingertips with a drag-and-drop interface.
Premium WordPress Portfolio Themes
Although the mentioned free themes make for a proper website for showcasing your skills and experiences, premium products with their exceptional options can sow the seeds for success much better.
Bear in mind that quality and distinction can appeal to potential clients and customers dramatically.
After all, you are going to attract their attention to yourself for their future projects, and it's worth spending some money on your online presence.
Below is a list of five reliable premium WordPress portfolio themes to choose from:
With a good understanding of the features you need for displaying your creativity and expertise, Kata is the top product to opt for.
It's an advanced Elementor-based theme that has innovatively taken the page building capabilities one step higher to be different than its rivals.
There are dedicated builder tools for pages, headers, footers, and blogs, allowing you to customize everything to the last details with a simple drag-and-drop interface. You can find the most comprehensive collection of fonts from the control panel to put your typographies in alignment with your branding.
More than 20 demos are published for Kata, and among them, Portfolio, Interior Design, and Freelancer can professionally meet your needs of an online portfolio.
With the help of the theme's exclusive demo importer, all the demos will be imported in a few moments.
Additionally, Kata has three new options other than the typical ones for responsive controls that allow you to design pages with many more options. 
No matter what your niche is, a modern theme with quality coding and regular updates alongside a reliable team of support lets you put great focus on building a successful website.
Divi is a great product of Elegant Themes with a multi-purpose functionality that entails portfolio-building features as well.
It has some exciting full-width versions, and the portfolios can be displayed in carousel or checkboard styles.
The drag-and-drop Divi Builder is likewise another advantage of this product that allows you to customize elements and build stunning pages quickly.
This product is a well-known and flexible theme that comes with a fantastic team of support to ensure you of long-term functionality and trust.
The Oshine multi-purpose theme is another stylish product with more than 50 demos that make it a perfect choice for a WordPress portfolio theme.
It helps you create a unique website for any creative style, such as the agencies, freelancers, and portfolios.
It is equipped with a dedicated front-end page builder that makes real-time editing of pages available to you.
Get the best out of video backgrounds and parallax sections to add testimonials and previous experiences, and in turn, bring more eyeballs to your online portfolio.
The theme is fully responsive, offers plenty of customization features, and loads fast enough to leave a positive impact on your website visitors and SEO rankings.
What distinguishes a portfolio compared to other ones is the designer's creativity that has been put on display.
Your clients and customers should know the reason they can trust you by visiting a few pages.
Asata is a great WordPress portfolio theme for creative designs.
It offers six pre-made designs to use for setting up an eye-catching portfolio.
You can implement your gallery, about us, pricing, and contact sections on the homepage in a colorful and modern style, and make use of the modern loading animations for each page.
 It entails some premium plugins like Slider Revolution and WPBakery Page Builder to facilitate the experience of page building more extensively.
Asata has what you need for your portfolio right out of the box, which means saving time and effort for running such a website.
How to Create and Edit Portfolio Items?
Now that you have installed WordPress and selected a theme, it's time to add sections and elements to your portfolio.
The first thing that crosses the mind is the header section.
If you have selected a product from the list above, you will end up using specialized tools for designing this part.
For instance, Kata has a fully-customizable header builder tool that is based on Elementor and allows you to choose from a variety of templates.
To access this section, you should head over to the Header section from the theme's control panel:
You now have a wide range of tools for customizing the element on the header in a way that suits your needs.
Additionally, the theme has exclusive widgets, such as Cart and Date, that can be added to your header by dragging and dropping:
Similarly, you can utilize the Page Builder tool and add different stylish elements and parts to your portfolio.
You can modify the existing texts, images, links, CTAs, animations, and all the other items of the pre-made demos, or add new ones to make everything more personalized.
Author Builder is also an excellent tool of Kata that comes in handy for creating stylized profiles for yourself or other team members on the portfolio:
Using this tool, you can include a brief description of each author, add image, and contact details in a modern layout.
Thanks to the Styler tool provided in the theme, every single element is entirely editable, and you can rest assured that your pages are totally customizable as per your preferences.
A well-established portfolio opens the door of so many new business opportunities to you and leaves a better impression on people after they visit your website.
Choosing an up-to-date and professional WordPress portfolio theme assists you in staying ahead of the competition and add some more brilliant, successful projects to your resume.
Select your theme today and start building a personalized portfolio website of your own to impress your audience more than ever, and in turn, increase revenues.