With the emergence of WordPress open-source content management system, creating a website from scratch has no more been a challenging task to perform.
Those days have passed when creating or updating a regular business website required plenty of time combined with a good knowledge of coding.
Thanks to the advancements of WordPress core and its relevant plugins and themes, building customized pages on a website is likewise a simple task to do for anyone.
WordPress page builders have simplified website designs, and among them, Elementor is as good as it gets for the most pleasant page building experience.
With more than 5 million active installations, Elementor is increasingly becoming the most famous name in this category.
Although this plugin is compatible with any standard WordPress theme, using fully-compatible products will bring you more features and better outcomes.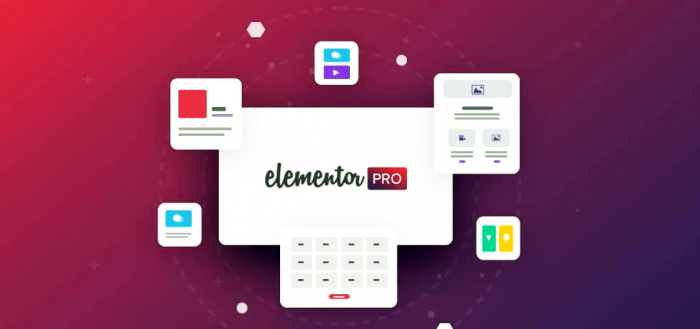 Best Elementor Themes & Templates
In this review, we will introduce 10 best Elementor themes by which you can create an outstanding website with peak performance.
Comparing the top themes broadens your mind so that you can choose what best matches your needs.
What Advantages Do Elementor Compatible Themes Have?
Simplicity and ease of use are the most significant principles that allow you to create professional layouts on themes that are compatible with Elementor.
Generally speaking, we can mention the following traits as the advantages of these themes: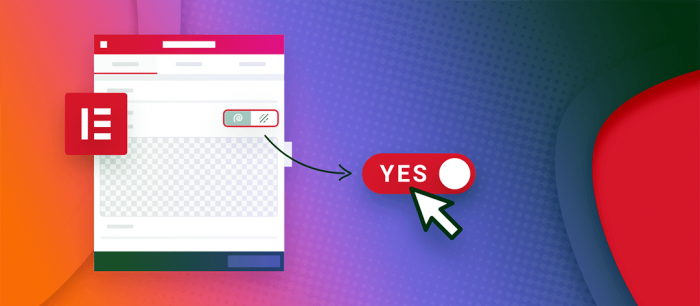 Changing both global and page-level controls are possible to do quicker and more conveniently on the best Elementor WordPress themes.
You can either change the settings for that specific page, such as displaying headers and sidebars, or the general details for the whole site.
These controls mean a more tailor-made website while having access to everything from one single control panel.
Elementor is equipped with a library of useful templates that can give a fresh and professional look to your website based on your industry and activities.
The drag-and-drop interface means editing the web pages live and seeing all the changes at the same time.
The designs follow the latest trends, and you can choose an eye-catching style from the free or paid templates.
Also, you can customize these layouts and save new templates in the way you like them to be.
Layout personalization can be done in a few minutes, and you can make changes on all elements, let it be margins and padding, width, height, or the column sizes.
The great advantages of Elementor are not limited to design elements and features.
The product entails a lot of different widgets that add to the design and page building capabilities of this tool.
Although most of the features of Elementor are available in the free version, upgrading to the Pro version unlocks even more editing options for you.
The importance of responsive design in the overall success of a website is no longer unknown to anyone.
The good news is that you can change your page appearance specifically for tablet or mobile phone views by using the Elementor plugin.
That's why many prefer to use fully-responsive products from the beginning.
With that general overview in mind, let's cut to the chase and go through an introduction of the best Elementor themes:
List of 10 Best Elementor Themes: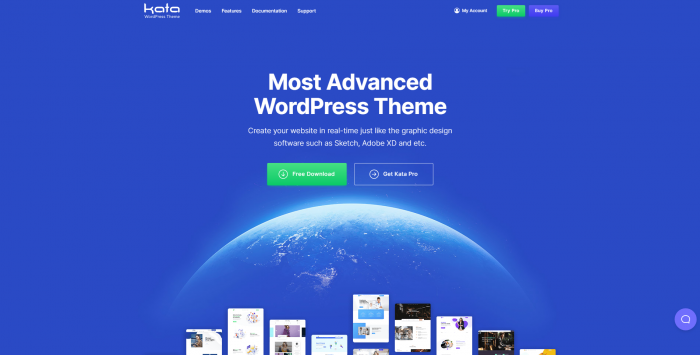 The first item we introduce is the Kata theme. This product combines the vast capabilities of Elementor with eye-catching modern designs according to the latest global trends.
The top priority has been the smoothest possible experience in designing a WordPress website without any specialized knowledge of coding.
Aside from the drag-and-drop features of Elementor, there are other dedicated customization features included in Kata that makes it the most comfortable theme to modify.
For instance, there are special tools for designing pages, headers, footers, and blog sections that allow building whatever design you can imagine.
Styler tool is another great asset for website customization by which you can change fonts, colors, and backgrounds all in one place.
In other words, all the codes of CSS are available to be modified without having to change the lines of codes.
Currently, there are 24 different demos with real content available, and you can use them in less than a minute by the unique demo importer tool of Kata.
Considering the impact of typography on the success of an online business, Kata comes with an advanced fonts manager allowing you to use whatever item you need from Google fonts, Adobe fonts, or custom ones.
Responsive controls have likewise been improved, and you can personalize your content display on other devices using three new sizes.
Laptop, Tablet Landscape, and Small Mobiles are the innovative solutions provided by the developer theme to let you maintain a better SEO and user engagement on various devices.
Kata supports RTL that makes it is a proper choice for creating websites in other languages than English.
High customizability alongside a complete functionality with stylish designs according to the latest global trends are the reasons we mention Kata on top of the best Elementor themes list. A premium Kata license charges you $59.
The modern Phlox theme is a suitable choice for any website thanks to the high customization features and more than 30 exclusive widgets.
This theme is recommended by the Elementor itself, which entails a big library of elements to make a fantastic website.
There are 25 complete demos available for Phlox that can be used easily with the one-click demo importer plugin. Different portfolio layouts, live theme customizer, various page templates, and modern image gallery all add to the functionality of this theme.
The premium license of Phlox is available on the ThemeForest website at $39.
When we talk about the best Elementor themes, Astra is the choice that can be found among so many website owners.
The developer team has put particular focus on the compatibility of Astra with Elementor, and they have even described it in detail on a specific landing page.
The Astra theme provides users with absolute controls over posts and pages. You can enable or disable each part of the page or content, such as the sidebars or footers. WordPress Customizer styles allow stylize your Elementor designs and add new ones if needed.
The Astra theme's performance is highly-optimized and responsive. You can benefit from the pre-built demos conveniently with a free default add-on named Astra Starter Sites and also make use of other popular WordPress plugins like the WooCommerce most efficiently.
A premium license of Astra starts from $41.
Zakra is a business theme that comes completely compatible with Elementor. This fast theme can be easily customized through the Elementor page builder, and similar to other professional products, you can choose from a list of multiple demos with different subjects.
Primary color options allow you to set a suitable color on your site according to your brand, which applies to the buttons, links, menus, and other elements.
Additionally, you will be able to change the style of your website into a boxed or wide layout to make your online presence look different compared to other sites.
Advanced typography are also made available in this theme so that you can align the fonts with your general feeling of website and brand.
The free version and demo are available on the WordPress website, and you can purchase a premium plan from Zakra's official website that starts from $49.
Airi is another fast-loading WordPress theme that's built specifically to work with the well-known Elementor page builder plugin.
There are 10 demos available for this theme, 3 for the free version, and 7 for the premium plan.
Therefore, no matter which demo you choose, all the components and elements will be ready to modify with Elementor.
If you intend to launch an online store, Airi is entirely compatible with WooCommerce, and it lets you choose from multiple business demos such as logistics, beauty, and coach.
These great options help in creating a more attractive site, and you can apply various full-width templates for controlling the content of Elementor.  
The Airi Pro starts from $59 annually, which comes with three Elementor plugins named Slider, Shop categories, and Portfolio.
Monstroid2 theme is another flexible and multipurpose WordPress theme that entails a variety of customizations and plugins to increase the site's features.
Although it can be an excellent option for a website, so many plugins can sometimes slow down its performance and also make beginner users somewhat confused.
There are over 60 pre-designed demos for the theme that can be applied through a dedicated built-in installer.
The JetPlugins are included in Monstroid2, and thanks to the variety of headers and menu customizers, you can make your website look neater effortlessly.
Additionally, so many visual elements such as the fonts, navigation, and colors in this theme increase its customizability to a more considerable extent.
Monstriod2 is fully compatible with WooCommerce and has included specific plugins in this regard.
The setup wizard is straightforward that takes you through the steps most easily. However, some of the visual elements are a bit outdated, which don't come pleasant to the eye in the first place.
You can grab a premium version of Monstriod2 at the Zamez website at the price of $75.
GeneratePress theme is an efficient and lightweight choice with more than two million downloads. It is not dependent on jQuery, and this feature adds to its fast speed of loading.
The codes of GeneratePress are high standard, and renowned people in the WordPress community have supervised its coding process.
Thanks to the straightforward UX/UI principles applied to this theme, navigating through the theme is really easy.
It supports RTL and can be translated into different languages as per the user's needs.
You can find a good range of colors and fonts in the product and benefit from full controls on pages.
All the premium features of GeneratePress can be purchased at $49.95, and you can use the 30-day money-back guarantee to ask for refunds if you don't find it suitable enough.
Neve theme is another great partner of Elementor for a WordPress website. More than 25 pre-built demos are available to use, which are all created using this popular page builder.
It is a good match for restaurants, events, businesses, and so many more niches.
The theme is well-equipped with necessary features like the search engine optimization of all pages, fully-responsive coding, cross-browser compatibility, and simple customizations.
The default layout looks modern and professional, and it can be customized with page builders other than the Elementor as well, such as Divi.
A ton of video tutorials is shared on the developer's website to let you make the best use out of it.
You can prepare and run the theme in less than two minutes. Mega menus are also among the advantages you get using the Neve theme.
Neve premium plans start from £49 a year, and you can purchase a lifetime personal license by paying £149.
Hestia theme puts particular focus on up-to-date material design styles that are perfectly integrated with Elementor.
This high compatibility has made Hestia appear on the list of suggested themes by the official Elementor website.
While it does not provide you with so many page-level controls, it does entail some Elementor-based specific page templates to be used.
It is also a good theme for WooCommerce sites that allows you to control the styles of a website with the live WordPress Customizer.
Proper demos alongside the custom backgrounds make it the right choice for different websites like blogging and portfolio ones.
Hestia premium plans start from £69 a year for a single website.
OceanWP is a professional multipurpose WordPress theme with more than 80 modern and fully-functional demos.
These demos are categorized into four general groups of E-commerce, Blog, One-page, and Corporate sites.
It is incredibly lightweight, and you get detailed controls for both global and page-level details.
OceanWP has some premium and free extensions that add to its functionality.
Popups extension runs with WooCommerce plugin, Portfolio allows you to display your portfolio, Stick Anything makes elements on your website sticky, and Full Screen is a perfect tool to create fullscreen scrolling site page.
These features are the proper tools you need for creating a more creative website on your own. Premium plans of OceanWP start from $39 a year for a single site.
When it comes to starting a website from scratch, easy-to-use tools can save you a lot of time and money for customizations.
The ten themes mentioned above are highly compatible with Elementor that let you create any type of website without hassle.
Although the free versions can meet most of the usual needs, upgrading to premium plans unlocks a world of new features for your website.
Use this comparison as a simple guide to deciding for the best Elementor themes according to your requirements and expectations.