Choosing between free and premium WordPress themes often leaves WordPress users on the fence, especially the beginner ones.
So many questions come to mind upon making the decision to buy a WordPress theme, like the advantages and disadvantages each one brings or its real worth compared to the price.
If that has been an issue for you as well, this article will assist you in getting a brighter idea.
Read on to get more information about the pros and cons of free themes vs. the paid versions and the best approach towards making a decision.
Also, we will introduce a fantastic brand-new premium WordPress theme called Kata that entails a world of practical features.
Is It Worth Paying for a Premium WordPress Theme?
Positives and Negatives of Free Themes
Free products often entice users to put them into use since it seems that there is nothing to lose, and you can change them at any time.
Before diving into reviewing this type of theme, you should be aware to only download products from the official WordPress website and avoid using other sources.
Trusting free themes published in other places can cause security or functionality problems for your site.
That is often the first question that crosses the mind. For many users, it's a mental trigger to be extremely careful about what will be put in front of them.
While some find it an excellent chance to start their blog or online store, others believe these products lack the required standards and quality, and therefore can't be trusted.
That's the reason why we strongly recommend to download free themes from the official WordPress website.
Doing so will ensure that every single product has gone through a thorough examination process by a team of professional experts.
The review team at WordPress.org website test products entirely before adding them to their directory. To mention a few, the free themes are examined for standard codes, HTML, CSS, and WordPress features.
A complete description of these rules can be found here on the WordPress website. As a result, if you are opting for free themes on this site, you can be sure about the necessary standards by which they have been approved to be added.
Free themes make a good chance for developers to gain reputation, make more money, and level up their skills.
They can offer their products to a large group of users and make improvements where necessary. So it comes as no surprise to see so many free products alongside the premium WordPress themes.
The most significant disadvantage of free themes is the limited support and functionalities of them.
Choosing a free theme does not impose any obligation on the developer team to fully support the queries and problems of users.
In other words, there is no warranty for the proper functionality of free themes, and if anything ever goes wrong, you are on your own.
Moreover, although a free theme can cover the necessary capabilities of a standard website, applying more advanced features such as shortcodes are only possible in premium WordPress themes.
Additionally, if you want a website with a unique appearance, a free theme is not the proper choice since many users use them.
A portion of the price you pay for a premium theme is for the activities of the UX/UI team that make that product distinguished.
Also, there is a significant difference between the control panel of a free product compared to a paid version.
Visual customizations are limited in free themes, and you are not allowed to make considerable changes in them.
Pros and Cons of Premium WordPress Themes
Premium services and products usually give us a sense of trust and reliability. Developers do their best to publish a cutting-edge theme so that they get the highest level of satisfaction from their users.
Unlike what we advised for free themes, you don't necessarily have to download premium WordPress themes from the WordPress.org site.
These products are available to purchase on the official websites of developer teams and other third-party sites.
- More Features, Easier Customization
It's evident that website owners prefer premium WordPress themes when they seek additional options and features.
The good news is that there is a very high competition between these themes, and users can take advantage of it by getting more advanced products at a more reasonable price.
Various capabilities combined with the easy-to-use interface are the common benefits to expect from premium themes.
Most premium WordPress themes charge you less than $100, which is a negligible price compared to the significance of a successful website.
However, considering the costs associated with these themes, not everyone chooses them for their site. So compared to free themes, they are used less frequently, and the chances are higher that you launch a website with a unique appearance.
A combination of this fact with customization features equals a better-looking website compared to free counterparts.
Technical support is the first thing that crosses the mind when we talk about premium online products or services.
All premium WordPress themes include dedicated support services and automatic updates, which can either be permanent or limited to a specific duration.
The WordPress core, and online algorithms, in general, are consistently changing, and we see new updates being published regularly for themes and plugins.
To maintain peak performance and reliability, your WordPress theme should also get updated based on these changes.
You don't want to install a theme and use the same version forever. So from this point of view, regular updates of premium WordPress themes are of great price.
Furthermore, there are developer teams that provide additional services alongside their premium licenses of products as well.
For instance, you can count on the support team if you need help with installing and running the theme, importing demo content, installing necessary plugins, or even optimizations for search engine rankings.
Aside from the benefits you get by purchasing a premium WordPress theme, not all products are the same. Some of the drawbacks you may experience are as follows.
- Extra and Unnecessary Features
Taking the additional features of a premium WordPress theme to extremes is not always an advantage.
Often, many of them don't come in handy, and they only slow down your site's performance.
Some developers prefer to increase their sales by adding various features to their products through premium themes.
Therefore, we strongly recommend checking for this issue prior to finalizing your purchase and look for a better product if necessary.
Moreover, excess use of shortcodes and custom post types can cause severe problems for you upon replacing WordPress themes.
Many of these codes and customizations disappear when you want to replace the existing theme with a new one, and it results in losing content and personalized visual aspects.
Sometimes you may choose a pretty and stylish theme but with poor codes. These products often cause incompatibility with some plugins or even leave a negative impact on your site's SEO.
The risk of using such a product can be decreased by buying a theme from reputable and reliable developer teams.
This way, you can be sure that the theme has gone through a strict process of various controls and reviews, and the chances are higher that you end up using a standard product.
How to Buy a Reliable, Premium WordPress Theme?
The best way to choose the right product is to look for renowned sources and developer teams. Anyways, know that you are not going to have a team of experts to set up and run the theme on your site.
Try to take a look at the documentation and product descriptions to exactly know what you will get in return after paying for the license.
The following general ideas can help you in making a decision:
Generally speaking, the typical free themes are proper for personal blogs and other types that do not include specific capabilities and are not supposed to handle considerable daily website traffic.
But in case you want a professional website for your business that has the potential of attracting so many website visitors, opting for reliable premium WordPress themes is suggested.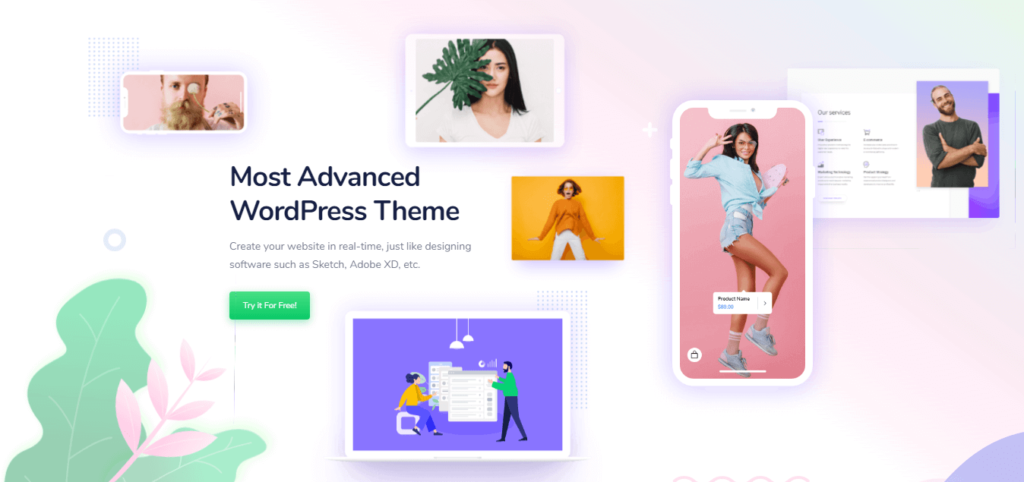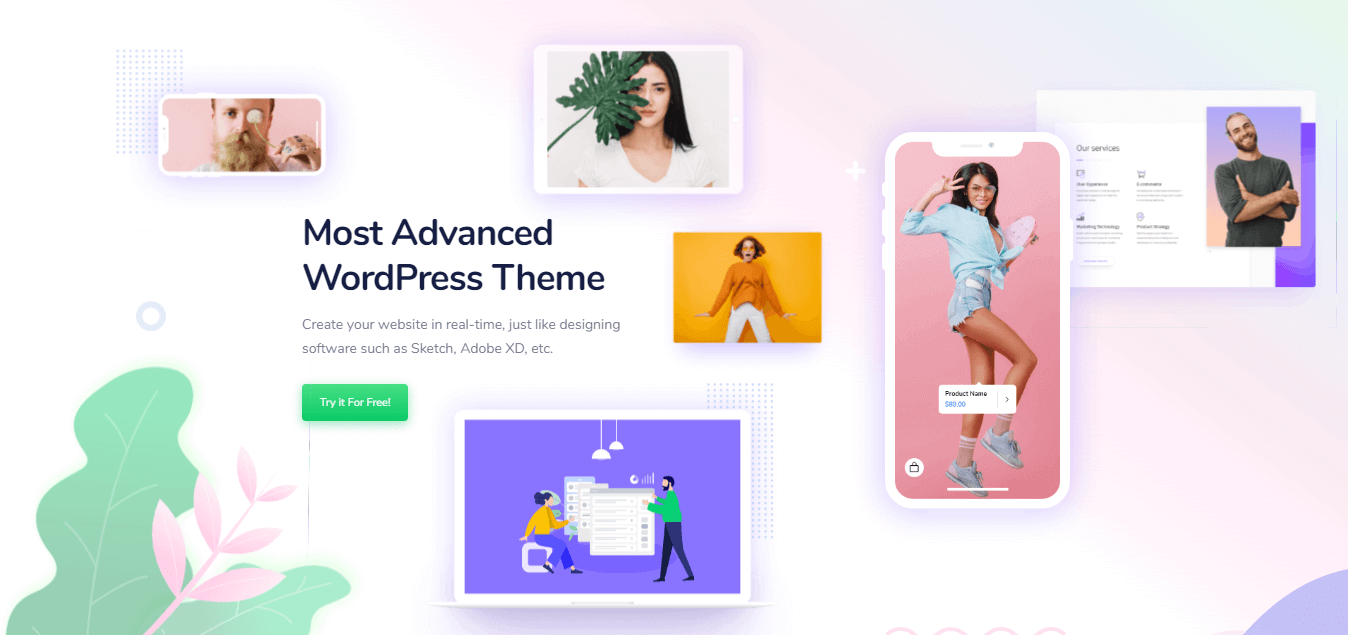 The Professional Kata WordPress Theme
Kata is a top-notch premium theme that is developed based on the latest trends of optimized coding and UX/IU principles.
This theme can take your experience of using WordPress themes one step higher since you can create your site in real-time, just like using a software.
The best user experience has been the main focus of this theme, and you can use it for any website.
The developer team behind this product has already prepared fascinating demos by which you can start using your website without having to create and design everything from the ground up.
You simply import the demo that suits you and then make the necessary personalization to get it ready.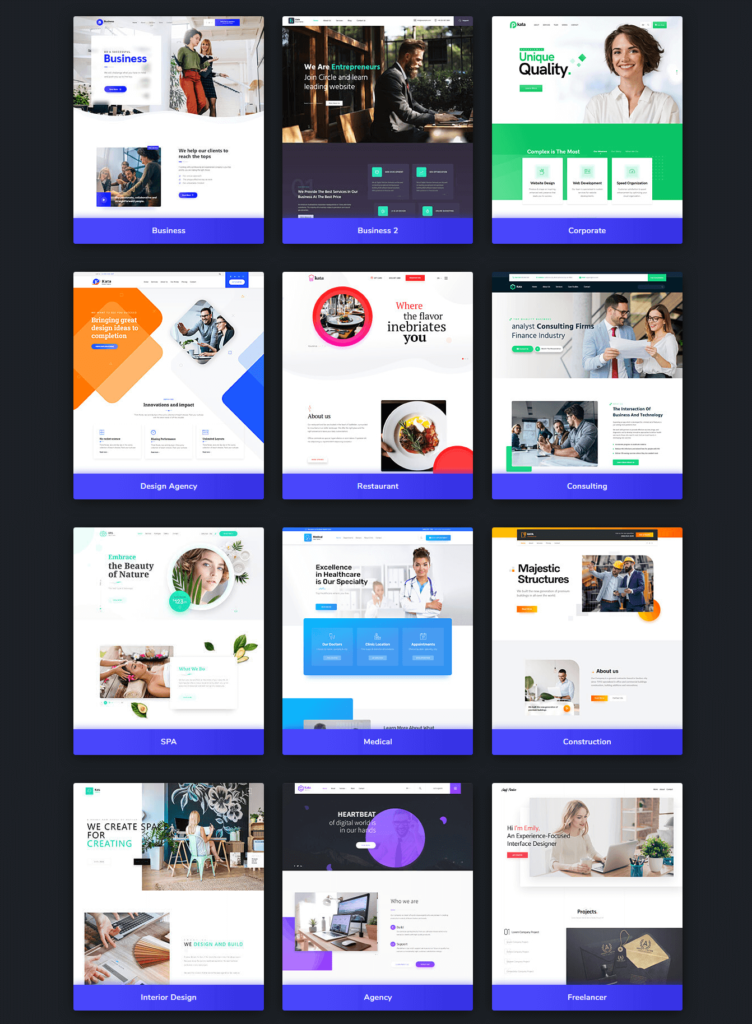 Kata is based on Elementor, the most famous WordPress page builder plugin.
Despite the excellent functionalities of this plugin, additional edit options have likewise been added to the theme so that you have a ton of customizations to choose from.
No matter if you need a change in fonts, colors, backgrounds, or other elements, all are available to you in a straightforward approach.
Header, footer, single, and blog builders allow you to adopt better and more professional designs to stand out from the competition.
The following demo video presents a sample page building experience on the Kata theme:
The ever-increasing importance of responsive design has been extensively prioritized in this theme.
Aside from the typical views for desktop, mobile, and tablet, three additional sizes have been added to the interface called Laptop, Small Mobiles, and Tablet Landscape.
Using these options, you will be able to make more changes in your designs on these devices and make your content appear just the way you want it to be.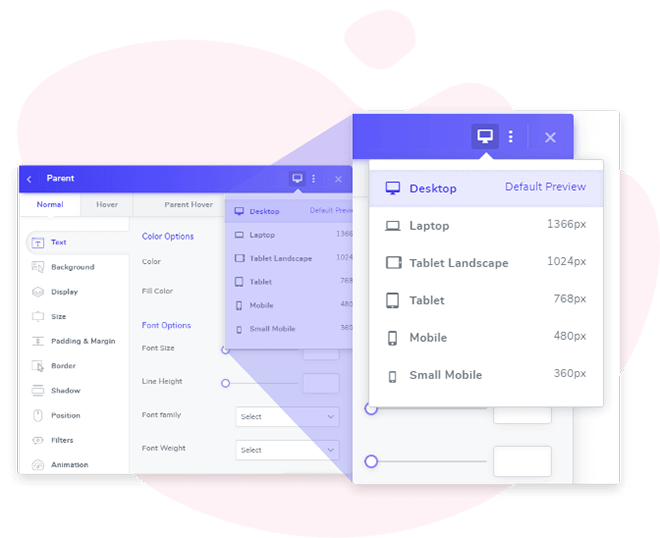 If you are a beginner WordPress user, the integrated interface of Kata simplifies navigation to different areas efficiently.
This way, you have complete control over different sections and change them as per your preferences.
Here's the way your control panel appears on Kata:
Start With a Free Theme and Then Upgrade
With all we talked about thus far in mind, why not starting with a free product in the first place and then upgrade it to a premium WordPress theme?
The good news is that a lot of premium themes have a free version as well that allows you to see them in action before paying money.
Many website owners prefer to launch their site with the more limited, but free versions, and later on purchase a premium license for its advantages.
Buying premium WordPress themes can sometimes be daunting since you may not see what you expect from them.
Some products display quality stock photos and colors which are sold separately and won't be included in the purchased license.
Some users don't pay enough attention to product descriptions and end up seeing a raw theme design without the shiny appearance they were waiting to see.
That's why we recommend choosing developer teams who give you a chance to test their product in action before paying money.
WordPress themes have made launching a website much simpler and cheaper than what it used to be a decade ago.
You can now choose from thousands of high-quality products and see an online preview of your site's appearance before even starting it.
Free and premium WordPress themes both entail advantages and disadvantages that you should bear in mind before making a decision.
Based on the project, paying for a premium license may not be a proper choice in the beginning. Therefore, prioritize your requirements and select a product while you consider the descriptions we discussed in this review.