The process of choosing the right WordPress theme on a huge market like Themeforest with thousands of options can be frustrating. We're going to clear this path for you.
The well-known WordPress CMS has come such a long way since it was first introduced in 2003. It is now a popular content management system all over the world that powers more than 35% of websites on the internet.
The simplicity and ease of use, alongside the free availability have made it the number one option for individuals who want to start a website from the ground up.
If you intend to use WordPress for your needs, you have probably come over to the ThemeForest website at least once.
The Themeforest WordPress themes provide you with a variety of fabulous looks for your website, and you can choose the right option for your expectations from more than 48,000 items. If you want to find a perfect theme from this website, here is the right place.
In the next paragraphs, we will be talking about the Themeforest collection of themes and provide you with useful tips that help make a decision much more comfortable.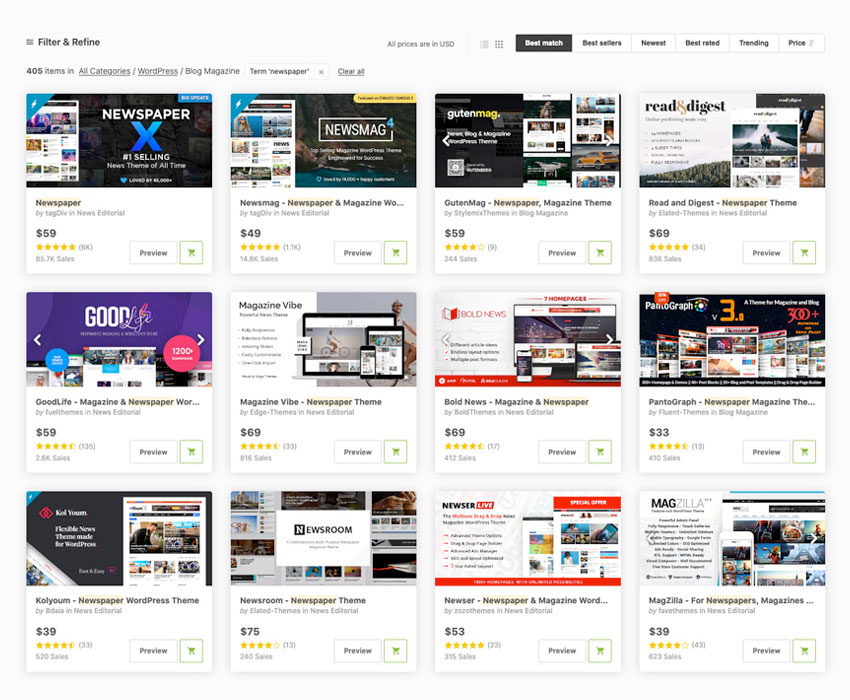 The Themeforest WordPress themes marketplace was launched in 2008 as a bridge to connect web developers and WordPress website owners.
In 2014, the Envato market was unified as a whole marketplace for website needs that is divided into seven segments. It also now includes a comprehensive list of WordPress plugins called CodeCanyon.
Themeforest is the go-to collection of WordPress themes for both developers and buyers. Programmers can create their products and submit it on the website to make it available for sales after successful validations.
A percentage of 45% - 87.5% is allocated to developers based on some criteria, such as the number of sales. 
Buyers, on the other hand, can apply various filters based on keywords, categories, ratings, prices, rankings, etc. This way, they efficiently narrow down their selection and find the product that best matches their needs in a matter of few clicks.
For instance, using the 'best sellers' filter displays a list of reliable themes that have been sold more than the other ones.
No matter what theme you choose, there are previews and descriptions available so that you know what it includes, how many pages it has, and find out about any specific features it entails.
How to Choose the Right Themeforest WordPress Themes?
After making up your mind about the general criteria that matter for your website, consider the following tips to trim the list further:
1. The General Performance and Design
It's a no-brainer that Google gives higher priority to websites that load fast.
So choosing a lightweight theme with optimized codes can considerably impact the overall performance of your site and bring more eyeballs to your services and products. After seeing a satisfactory theme, go for some speed tests to analyze its performance.
Responsive design is another significant factor in prioritizing. More than 90 percent of internet users nowadays use their mobile phones for social media, online purchases, and surfing the internet.
Losing such a high potential for the success of your business and online presence is the last thing you ever want!
Google also gives more credit to websites that have mobile-friendly design and shows them in SERPs more than their unresponsive counterparts.
With that in mind, consider having website pages that display content correctly on smartphones or tablets just as it is supposed to be on a computer.
Many reliable themes are optimized to be responsive on all devices, and some have even taken one step further and provided unique controls for displaying elements on these devices.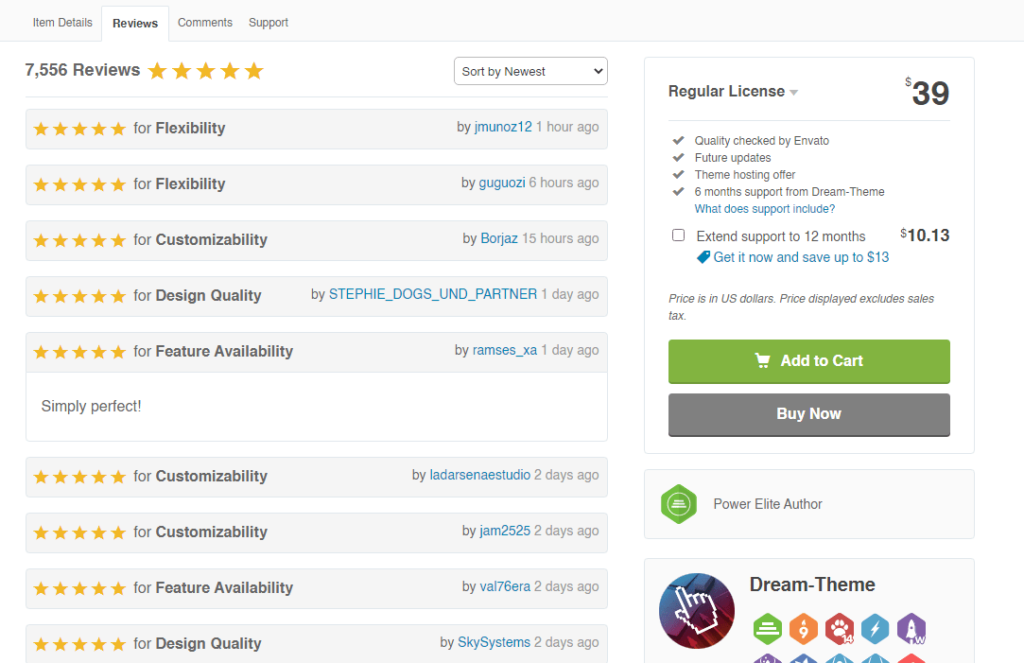 User reviews and ratings have long been a reliable source of information in choosing a product or service, especially in the digital world.
So one way of finding well-founded Themeforest WordPress themes is looking at the reviews and stars each product has received.
Just take a look at what others say about the product you selected and see how the developer team has responded and helped them with their problems.
When you select a product on Themeforest, you can read the product description and also see a list of valuable information that appears on the sidebar.
Both of these sections are significant assets for making an appropriate decision. The main features and highlights are often listed there, and you can check for the plugins or images that come with it. On the sidebar, for instance, the total number of sales or its ratings by previous users are mentioned.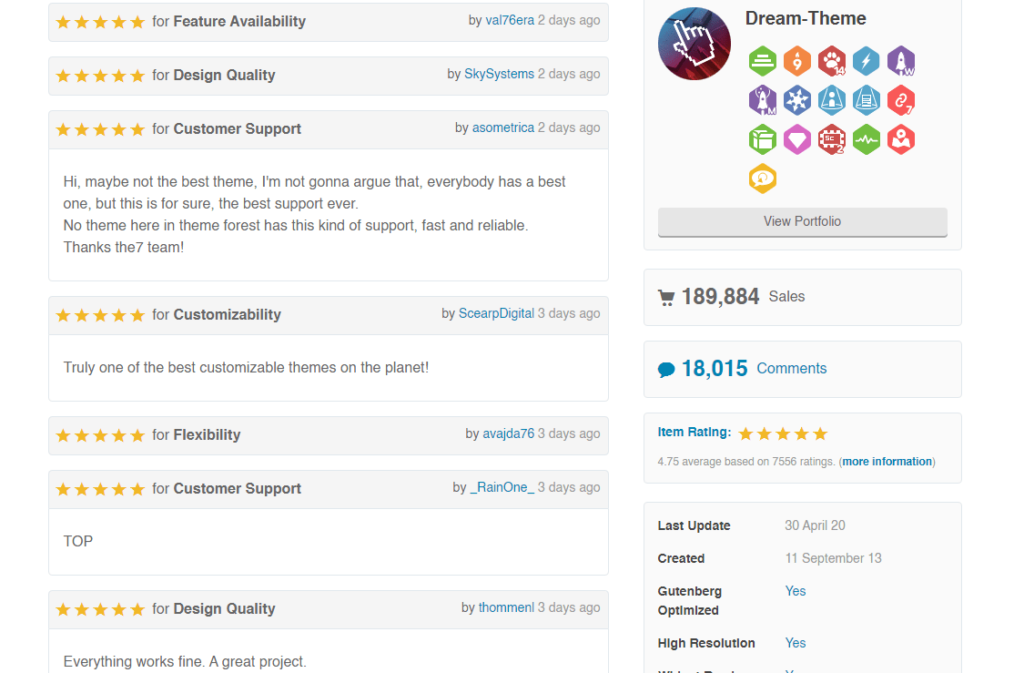 The date of the last updates can similarly be an essential factor.
Platforms are continually getting updated, and choosing a product that is last updated more than a year ago cannot be a wise decision.
Bugs are the unavoidable part of any online service or product, and you may fail in setting up the theme in the way you had hoped. In this case, you want to make sure a reliable developer team is available since it is by far the most trustworthy assistance you can get.
The Themeforest WordPress themes all come with a default six-month support with the license you purchase. During this period, the developers are committed to giving answers to any questions regarding the functionality or features of the product they sell. This support is available either from the comments on the Envato website or other means provided on the developers' official site.
3. Supported Options and Plugins
Your website visual aspects likewise play an essential role in standing out from the competition.
Opt for a well-equipped theme with enough editing options so that you can conveniently change the colors and layouts as per your preferences.
The WordPress plugins come in as extra functionalities for your site in various aspects. There are Themeforest WordPress themes that offer a premium version of some plugins with the money you pay for the product's license. It is a convenient option that allows you to do so many customization.
Among them, compatibility with popular WordPress page builders such as Elementor and Visual Composer brings you a world of additional designs and appearances.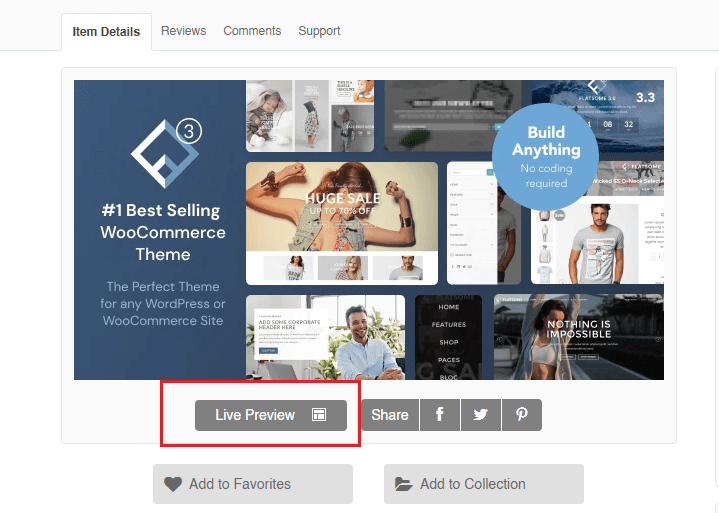 You can easily see most of the Themeforest WordPress themes in action by using the demo version.
These live previews allow you to put the functionalities of the themes into use prior to purchasing them. To mention a few, you can test various colors and backgrounds so that you know how it will eventually look once combined with your brand.
When analyzing the live previews, you should keep an eye on the featured images in each product. The designer teams often dedicate specific and high-quality stock photos that are not available to use without paying additional money. Try to look at the descriptions and find out about the right to use them.
This is also a good chance for putting the responsiveness of Themeforest WordPress themes into the test.
An easy and free tool in this regard is Google Chrome's Developer Tools, by which you can change the display of each page to a mobile view version.
Disadvantages of Themeforest Website
Despite the popularity and significant advantages of this rich source of Themeforest WordPress themes, users may sometimes end up having a product without the expected flexibility.
As earlier pointed out, every web developer has a chance to sell products on this platform, and it adds to the possibilities of selecting a product with low-quality standards. It can happen to those who don't have enough knowledge and get easily lured by flashy themes. Considering the precautions we stated above can minimize such risks for you.
Purchasing a theme with bad coding can negatively impact the overall performance of your website in the long run and ruin its content and appearance easily.
There are some Themeforest WordPress themes categorized as multipurpose ones that are equipped with fantastic features. Many of these customization options are provided with the help of other tools, plugins, and specific shortcodes.
Although it seems great at first sight, when you want to change a theme in the future, so many problems come to light since your new theme may not correctly recognize many of these codes.
As a piece of general advice, opt for the products that are backed by a renowned team of programmers and focus on the primary functionality rather than only paying attention to visual aspects.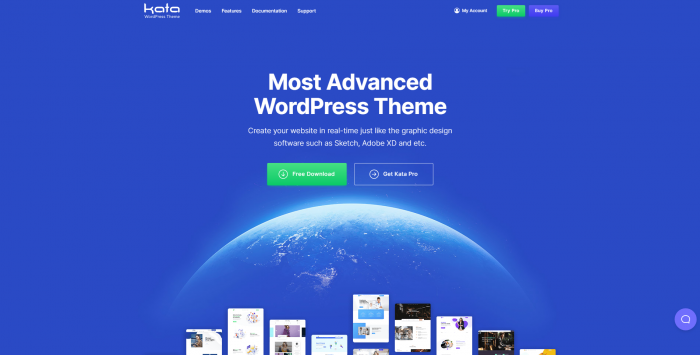 Kata is one of the advanced WordPress themes with a high focus on user experience and various functionalities to create all kinds of websites.
A great advantage this WordPress theme offers is that all the changes you make, let it be on the header, footer, or other theme options, can be viewed live on the frontend.
The developer team has published multiple pre-made demos for various website purposes.
You can choose from a list of different styles and make use of practical designs with real content based on your website's activity.
The provided demos include business, restaurant, design agency, freelancer, education, personal blog, and so on.
Thanks to the simple demo importer it owns, using the pre-made data is available in a few clicks.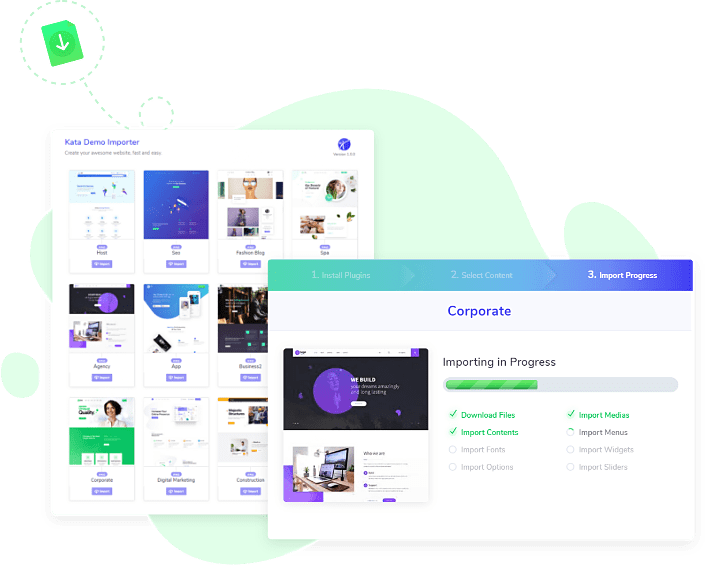 Despite the modern and eye-catching designs, the Kata theme comes utterly compatible with the Elementor page builder plugin.
You can benefit from the numerous customization features it brings you and uses them to create new designs and layouts.
The theme includes a special editor called Styler.
Using this tool, you will be able to customize texts, pictures, fonts, and many other visual elements with the help of a fascinating user interface. In simple words, you are changing the CSS codes without having the required knowledge.
Adjusting fonts has never been easier since the theme comes with a comprehensive font manager. You can either choose from Google Fonts, Adobe fonts, upload your favorite ones, or use the fonts that are hosted elsewhere.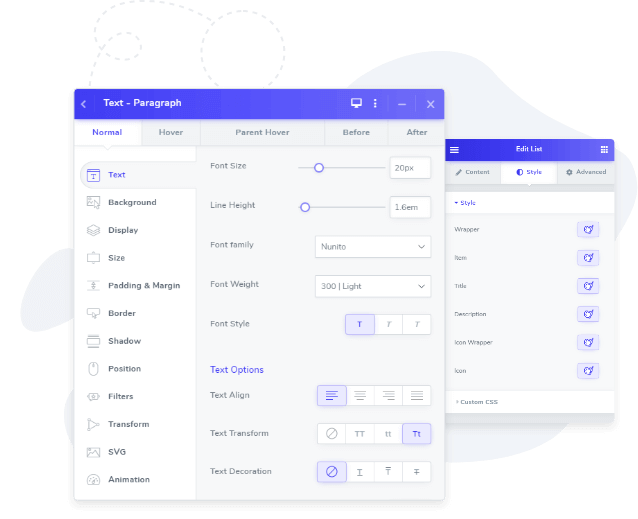 Moreover, by installing Kata, you benefit from dedicated footer and header builders that are similarly developed based on the Elementor plugin.
You can either create a style from scratch or import the available designs from the available collection.
Additionally, considering the ever-increasing importance of blogs on websites, you can edit the way your blog section looks and give it a tailor-made appearance.
As mentioned in previous sections, responsive design is a must in WordPress themes.
The Kata theme not only includes the regular three sizes for responsive triggers but also has innovatively added three additional options. More options mean more details, which in turn increases SEO rankings and provides a better user experience.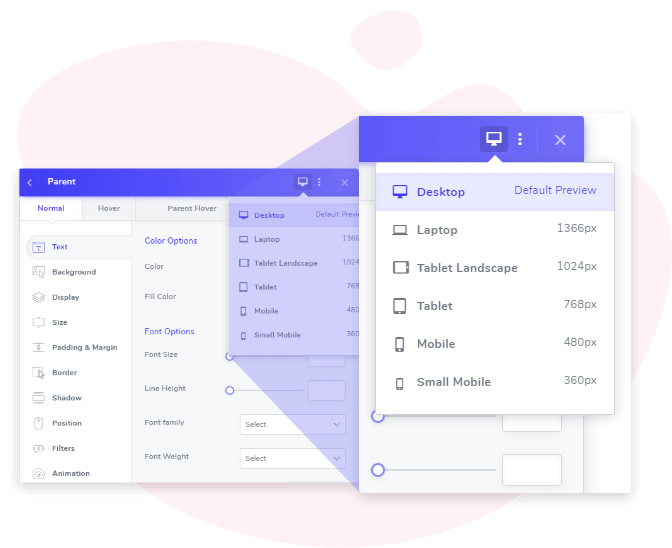 Watch the following video to get more familiar with this fantastic WordPress theme:
Purchasing Themeforest WordPress Themes
Buying Themeforest WordPress themes is done efficiently and comfortably.
Choose the product that suits your needs and click Add to cart on the sidebar. You can also include an extended duration of support if required:
After completing the steps of purchasing, you need to download the file of the theme to install it on your website. Locate the purchased item from your profile and select it. Click Download and choose Installable WordPress file only.
Your download begins, which gives you the zip file of your theme.
You can head over to your WordPress panel and install the theme in a few minutes. In case you face errors, you may require to increase the upload limit of your server.
There are multiple ways for doing that, and luckily most hosting service providers support such services for their clients.
Otherwise, you can follow some more straightforward steps and use the dedicated plugin of the Envato market to install and update your Themeforest WordPress theme.
Start with downloading the plugin from Github and then install it from your dashboard.
After successful activation, you need to synchronize data with your account so that you can control all the plugins and themes you have purchased directly from your WordPress dashboard, Click generate a personal token:
Now you can generate the token by logging into your account on Envato and grant access to the plugin. After the successful generation of your personal token, copy it on the plugins' dashboard, and click Save Changes:
Now you can see all the items you have purchased on Themeforest and control them directly from this panel.
Themes can similarly be quickly installed by clicking Install, and you can rest assured that you get notified about new updates upon being released:
Themeforest is the go-to source for satisfying the hunger of finding the best WordPress themes.
This extensive collection of Themeforest WordPress themes has something to offer for any taste and need. The filtering options provided on the website allow you to hit the nail on the head and find the best choice without wasting your time.
No matter what type of business you own, you can always make a comparison between multiple products and test them live in action. Just take the tips we mentioned here into consideration and enjoy your theme hunting.