Every business nowadays has an online presence, no matter how big or small they are. We all know WordPress as an easy-to-use CMS that doesn't need much knowledge of web development to run and manage.
This simplicity, accompanied by the robust performance of WordPress, has made it the number one choice for most individuals who want to launch a website.
Although you don't need to know programming backwards and forwards for WordPress maintenance services, it's not always possible to handle the tasks on your own. On the other hand, many businesses prefer to outsource their website management to reliable teams and shift their focus on the business.
If you're looking for all-knowing WordPress masters to offload the tasks of website maintenance services on, you're in the right place. 
In this post, we'll introduce six of the best WordPress support and maintenance teams you can go after for professional services. Whether you want to always keep your site updated or take care of security and content update tasks, you'll find the right pick here.
Things to Avoid When Adding a New Language to Your Site
Mistakes often occur in website development, especially if average users without in-depth technical knowledge make the required modifications.
While trying to present your online identity in another language, make sure you don't go for the following mistakes: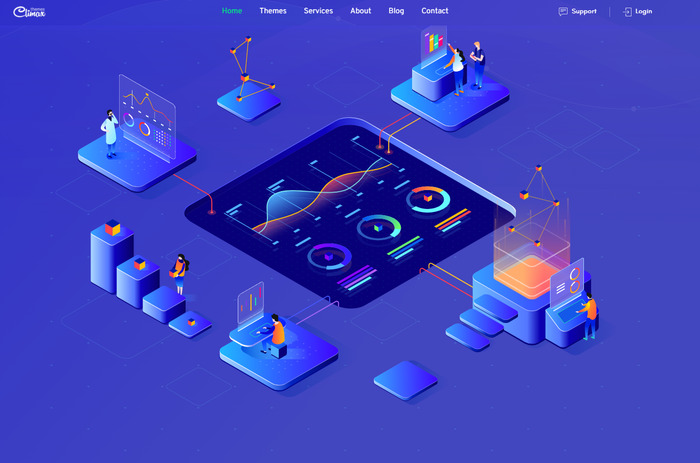 ClimaxThemes is the name of a professional team that specializes in WordPress design and development. Kata is an all-in-one WordPress theme backed by this team that functions flawlessly for all kinds of websites. This freemium theme runs fast and comes optimized in all aspects.
Aside from theme development, ClimaxThemes excels in all the related services to WordPress. No matter if you want to run a site from the ground up or develop an existing one, these experts will satisfy your needs in the best way.
WordPress maintenance is another field for which you can rely on the ClimaxThemes team. The experts offer top-quality services for every successful website, let it be a small personal blog or an online enterprise presence.
These customization, speed improvements, regular backups, website analytics, performance monitoring, site migration, and content writing are some of the available services provided by this team.
Additionally, you can leave the whole responsibility of search engine optimization to these experts for improved online visibility.
Based on your business conditions and goals, ClimaxTheme's experts will plan proper short-term and long-term strategies for your site and make improvements where necessary. The applied methods follow the latest updates of Google algorithms to ensure the best possible results.

WP Buffs is a well-known company offering different business and individual website maintenance services. Performance improvements, periodic maintenance, and security measures are some of the most important activities of this brand for WordPress site owners.
The services offered by this team are 24/7. This is excellent assurance for enhanced digital growth. You can also choose the plans that give you updates, optimizations, and backups at specific intervals if necessary.
One of the advantages this brand brings is the weekly reports they send to you every week that show in-depth reports about what they've done.
For example, you'll see what security concerns have been solved during that week and its exact time. Additionally, they have special WordPress maintenance services for complex eCommerce stores that have high daily traffics.
WP Buffs offers white-label services that allow you to use their services for your clients as if WP Buffs' experts are a part of your own team.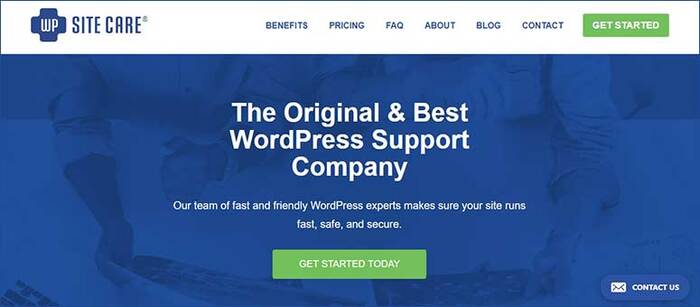 Whether you need basic maintenance services or specific, custom-made developments, the well-established team of WP Site Care will do you the best.
Launched in 2012, the brand has successfully earned a name over the past few years for offering backup, security, and WordPress maintenance services. Compared to its counterparts, the pricing plans of WP Site Care are a bit above the average rate.
Aside from the maintenance services, WP Site Care has taken a step further and provided managed WordPress hosting services.
These hosting plans complement the maintenance services and allow you to achieve higher quality levels running your site. The websites that use the hosting plans will be stored on the AWS platform, run by the security standards of Cloudflare, and have access to generous amounts of storage.
WP Site Care also covers explicit options for online stores to keep them secure while running at peak performance. The professional customer support team will always be by your side if you face any technical issues.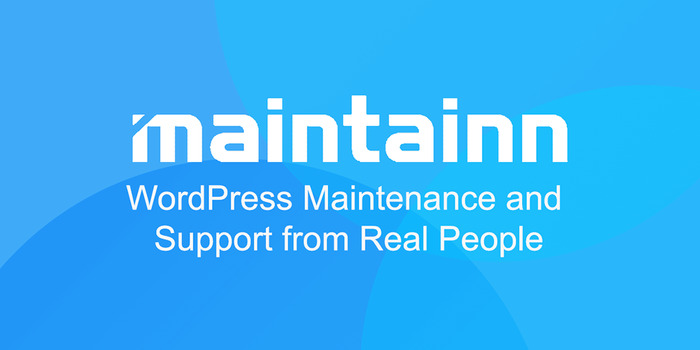 Maintainn gives you a good variety of options to keep your site up to date and safe. They include weekly updates of themes and plugins in their plans while giving you security monitoring all around the clock.
Backed by WebDevStudios, the plans of Maintainn keep the backup files offsite for better security. They also have a partnership with Sucurri to ensure you of the highest level of safety measures in the long term.
The experts of Maintainn proficiently handle all the tasks of your size at any size. Based on the plan you choose, your files will be backed up to Amazon S3 once a day or more.
The pricing plans of Maintainn are cheaper than other companies, and if you choose the plans with higher prices, you receive free cleaning of malware if hackers attack your website.
Email and live chat support are always available for all pricing plans, and you receive weekly reports from the company informing you of the actions that have been taken.
If you're one of those website owners who prefer to leave the responsibility of all website-related tasks to one company, Maintainn is a good fit. The company will provide you with hosting, design, and development services so that you can put your focus entirely on your business without worrying about your online presence.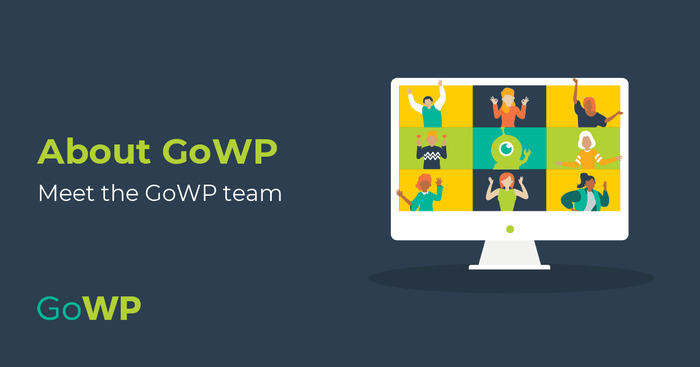 No matter if you're a freelancer or an international business owner, the while-label GoWP team can give you all kinds of WordPress maintenance services with ease.
The main focus of GoWP has been put on web developers or agencies who offer WordPress services to their own clients. It's a great chance for these website owners to utilize the expertise of a team of professionals and have them by their side as team members.
The pricing packages of this company are cheaper than many others, which come with backups and updates as well. To put it in perspective, the most expensive pricing plan costs you $79 a month and covers CSS tweaks, new plugin installations, and 24/7 support.
If you or any of your clients don't have enough time to upload new content on your site or don't know how to design new pages appropriately, the Page Builds plan will do the job for you.
GoWP has an innovative solution called Visual Validator that checks your website after every new plugin installation and tools.
This software works by taking snapshots of your site pages to let you compare them with previous versions before new installations. This helps the team to quickly notice any changes and check your site in the shortest time possible.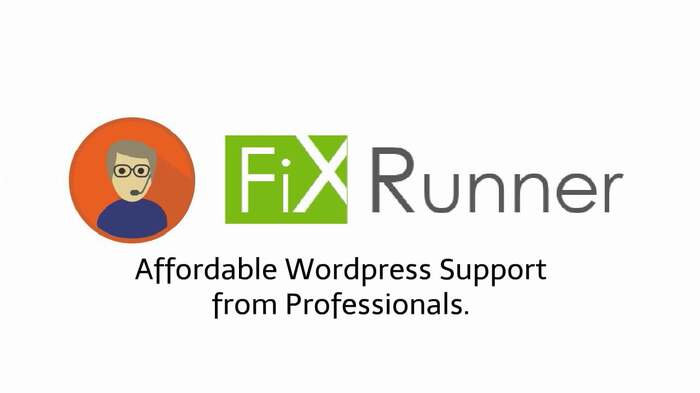 The last item on our list of WordPress supports service providers is Fix Runner. This company offers plenty of basic website maintenance services in the form of different plans while giving you an option to go for one-time solutions if you don't need their other services.
The one-time option is an excellent choice in emergency times when you don't know what to do with websites' technical issues. Using this plan, Fix Runner's experts will work on your site for half an hour to address and fix the problems.
If you're not sure that your problem gets solved within 30 minutes, you can ask the team for a free estimation and then make your final decision accordingly. Also, there's a particular flat-fee service for malware removal.
Regardless of the pricing package you choose, there's a dedicated support time for you every month.  Fix Runner takes automatic backups of your content and stores them offsite.
The updates included in the packages cover themes, WordPress core, and plugin. Furthermore, there's always an uptime monitoring on your site that alerts the team in case of any issues.
The ticketing system, live chat, and email will ensure you to have assistance at hand whenever you need them. As with other companies, the higher the price you pay upfront, the cheaper it will be for you.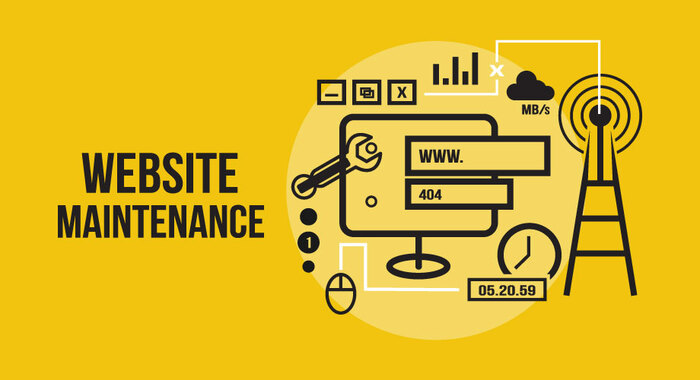 WordPress maintenance services are an essential part of website management. Hiring a reliable team of professionals for maintenance brings you an assortment of benefits that positively affect your business success.
Usually, the website owners don't have enough technical knowledge to handle the technical aspects of their site as they go along with their online presence. Besides, the design and redesign aspects of website pages need a good experience if you want to avoid falling behind the competition with your rivals.
Above all, your website's loading time is the most vital quality that leaves an impact on the number of website visitors you receive. This is an essential action to take if you want to increase conversion rates, and in turn, add to your number of online sales.
So the solutions we mentioned here was a precise list of the most reliable companies in this regard. Hopefully, you find these companies competent and enjoy a more successful online presence in the long run.