WordPress has become one of the most common content management systems for running websites over the past decade.
According to statistics, more than 75 million websites now use WordPress all over the world.
However, we all know that we can't enjoy this platform and manage our website without a hosting service.
Choosing a reliable hosting service is the key factor if you want to run a successful site.
The ever-increasing popularity of this CMS has resulted in the emergence of hosting services designed specifically for WordPress needs.
The available services come in different forms like free, VPS, shared, and dedicated.
Here we're going to help you select a proper hosting service for your site.
We've covered nine of the best WordPress hosting services that have gained a remarkable reputation over the past years.
But before going through the list, let's review some tips for making the right decision more conveniently.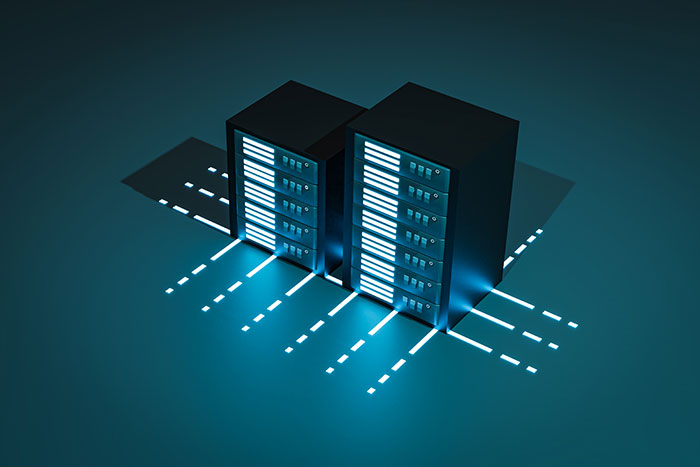 What to Consider About WordPress Hosting Services?
Your website's health is highly dependent on the hosting service you use.
Loading time or speed, uptime, reliability, and security are all critical factors to keep in mind when choosing a service.
Your site's speed and uptime can vary significantly based on the number of your visitors and the website size.
So you should define your needs and expectations in the first place and then go for a proper hosting plan.
Free, Shared, Dedicated, VPS, and Managed Hosting.
When it comes to choosing the right hosting service, there are plenty of options ahead of you:
Free services
Free hosting plans are often found as a part of larger server space.
Most of them have a limited amount of resources, and you can't keep using them for a long time, especially after an increase in the website's traffic.
Moreover, the service providers usually ask you to display their banner ads or some links in return for the free service they're offering.
It's highly recommended to prevent using these plans.
You can't trust such services since the level of security measures are very low.
In addition, there's no reliable support team, and your website can get hacked pretty easily.
Shared services
Shared WordPress hosting services are by far the most popular choices in many countries.
They come at reasonable prices and give you the quality you need to start your site.
As the name suggests, multiple websites share a large server in these services, and there are specific amounts of resources available to each user.
If any website on the server takes up more server loads than the standard restrictions, it will negatively impact the neighboring sites.
Dedicated services
You lease a physical server from the hosting company when choosing a dedicated server hosting.
These plans give you access to full control over the features, and you should have an experienced system administrator to handle the service.
Dedicated hosting services are suggested to website owners who have a significant number of daily visitors.
VPS services
In this kind of hosting service, the companies partition a physical server into smaller servers while considering the users' needs.
The difference between this service and shared services is that a VPS gives you equal controls as a dedicated server.
You also have a higher level of privacy and server controls.
Going for this service requires good technical knowledge to handle the configurations.
Managed services
Managed WordPress hosting plans give you peace of mind so that you won't have to worry about any aspects of your service.
The company's experts perform website optimizations, security measures and backups, and advise you about all the necessary actions.
This is a hassle-free solution, but the prices are usually higher than other plans, and not everyone can afford them.
With that introduction in mind, let's review the well-reputed service providers for running your site.
The Best WordPress Hosting Services
Here's our handpicked list of reliable hosting companies you should consider: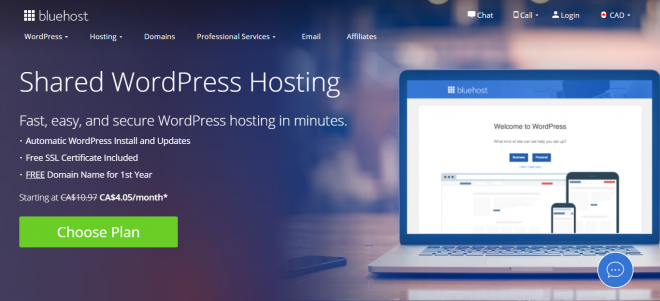 Bluehost
Bluehost is one of the mainstream hosting services in the WordPress space.
They offer cost-effective packages as well as free SSL, domain, one-click installations, and automatic updates.
The company has been around since 2007, and they're among the few hosting service providers suggested by WordPress.org.
The WordPress hosting packages come pre-installed with the latest version of WordPress.
But we found no free option for website migration in the low-cost packages.
If you're new to WordPress, the available tutorials database will help you a lot in managing your site easier.
The plans start from $2.75 per month and come with a one-month money-back guarantee.
All plans have 24/7 live support and offer strong uptime and fast load times.
However, there's no option to pay for a service monthly, and you can either choose the 12-month, 24-month, or 36-month options.
For those WordPress users who need more control and power, there's the WordPress Pro solution.
It's a managed hosting option starting from $13.56 a month.
These packages come with a series of additional features, including JetPack website analytics and malware removal.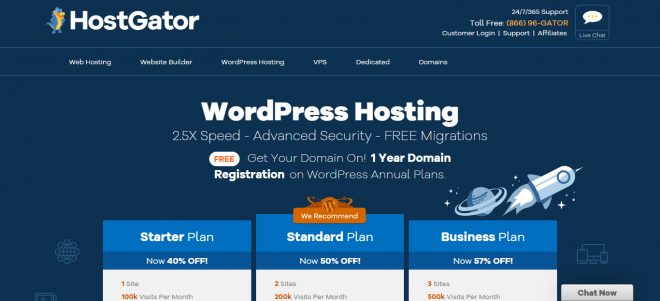 HostGator
Choosing from the WordPress hosting services often requires you to consider in-depth details to find out the differences.
HostGator is a reliable company that offers robust hosting services at a reasonable price.
More than 10 million websites currently use the HostGator hosting services in different countries around the world.
No matter what plan you choose, you'll benefit from unlimited storage, email accounts, and also free website migration.
The helpful customer support team is reachable through live chat or phone all around the clock.
The WordPress hosting services are available in Starter, Standard, and Business packages.
The cheapest option costs you $5.95 a month and supports up to 100K monthly visits.
The other plans are available at $7.95 and $9.95 a month.
The renewal prices are higher than the average fees, and there's a money-back guarantee for 45 days for whatever plan you purchase.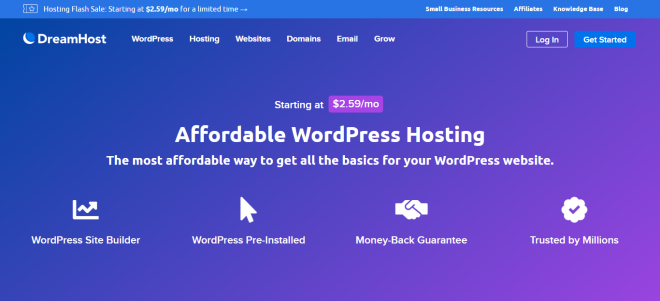 DreamHost
DreamHost is another popular hosting service provider in the market.
They have more than 340,000 customers, and just like Bluehost, they've been recommended by the WordPress.org website.
The WordPress is pre-installed in the WordPress hosting services, and you can benefit from a simple drag-and-drop page builder, too.
The cheaper plans don't offer free site migration and you should pay $99 if you need the service.
But it's available for free in the DreamPress plan that costs $16.95 a month.
The support chat is not open 24/7, and you can only get immediate assistance between 5:30 to 21:30 Pacific time.
Tests show that DreamHost is a perfect option to serve visitors within Asia or the US.
You can buy the most reasonable plan for WordPress by paying $4.59 a month or $2.59 a month for a 3-year commitment.
If you need a managed WordPress hosting, you can grab a license for the 'DreamPress' service by paying $16.95 a month, billed annually.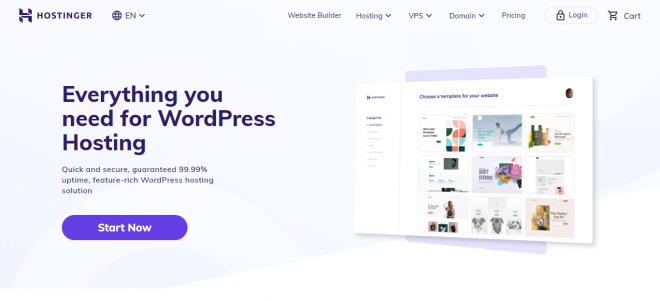 Hostinger
Hostinger is located in Europe, but the company has data centers in Asia and the US as well.
One of the innovative solutions you can find in Hostinger hosting services is that you can ask the support team to change the location of your servers to other places.
The availability of the WordPress website builder tool is also an excellent asset to beginners who have just started their site.
There's a reliable library of WordPress tutorials, and you can always contact the support team 24/7 using the live chat feature.
Hostinger is one of the most reasonable options among WordPress hosting services.
Four options are available, and the prices fall between $1.59 to $11.59 a month if you choose the 2-year subscription plan.
The cheapest option is only available for one website that supports up to 10,000 monthly visits and gives you 10 GB of storage.
On the other hand, you can use the most expensive package for 300 websites with 300,000 monthly visits and enjoy 100 GB storage.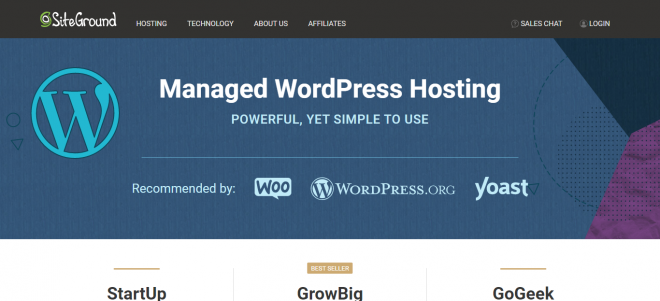 SiteGround
If you care about the services recommended by WordPress.org, SiteGround can be the right pick for you.
You can rarely find a list of reliable hosting services without SiteGround.
The company was founded in 2004, and it currently has an increasing network of customers reaching over 800,000 domains.
Similar to Hostinger, you can change the location of your service from Europe to the US.
To help you with your WordPress site, they offer a free transfer option on all of their services, as well as a free CDN to cache your data for faster load speed.
There's a 24/7 support team available through the live chat system.
When it comes to prices, the WordPress hosting services of SiteGround are relatively expensive.
The plans are named StartUp, GrowBig, and GoGeek, coming in $6.99, $9.99, and $14.99 a month, respectively.
These prices are billed annually, and the renewal prices are higher.
Although none of the packages give you a free domain, free CDN and Email are available in all.

A2 Hosting
A2 Hosting is rather a newer name in hosting companies.
Considering their outstanding performance and affordable prices, the company has made a name for itself over the past few years.
The provided WordPress hosting services offer powerful security features, peak performance, and a user-friendly environment.
A2 Hosting has servers in the US, Singapore, and the Netherlands, and you switch between them if required.
Whatever service you purchase comes with free CDN, SSL, SSD storage, and unlimited bandwidth.
The customer support chat service is available 24/7, and you can also contact them by phone.
The lowest price is $2.49 a month for the 3-year commitment, $5.99 for the 1-year plan, and $9.99 for the monthly payment.
For Turbo Max, the most expensive package, you'll need to pay $22.09 for the monthly commitment.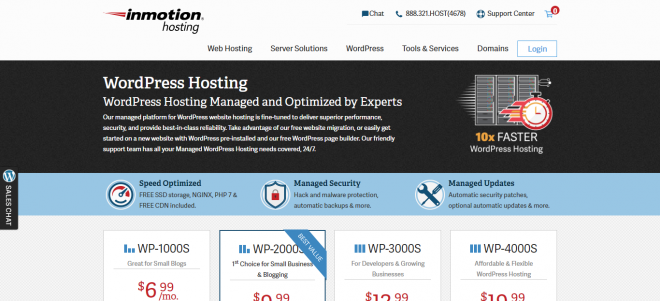 InMotion Hosting
InMotion Hosting is an American hosting company offering a good variety of hosting plans for different needs.
All the WordPress hosting services come with SSD storage without any additional costs.
Additionally, you get free SSL, unlimited email accounts, CDN, and a good collection of free WordPress themes.
The hosting plans come with a free site migration option, and you can contact support 24/7 on the phone or through the live chat feature.
A disadvantage of this service provider is that not all customers can get instant access to the services they purchase.
It might take a while for users outside the US until the new account and purchase get confirmed.
WordPress hosting plans are available in 1-month, 1-year, and 2-year options.
The price range on the 2-year plan starts from $9.99 a month and reaches up to $29.99 per month for VPS service.
All the WordPress hosting options come with a free domain.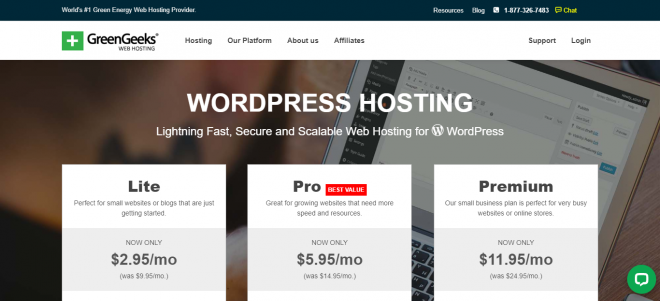 GreenGeeks
GreenGeeks is a perfect choice for those who want to use environmentally friendly services.
The applied architecture follows the maximum use principle and wastes no resources anywhere.
GreenGeeks offers cost-effective solutions for WordPress website owners with plenty of practical options.
SSD storage, free SSL, free CDN, unlimited number of email accounts, and unlimited bandwidth are the common features among all services.
There's a 24/7 support team on the phone, through live chat and email, as well as a useful source of WordPress tutorials to solve the problems you encounter in the fastest time possible.
There are three WordPress hosting services name Lite, Pro, and Premium.
The lowest price is $2.49 a month, and it reaches up to $8.95 per month for the most expensive option.
The renewal fees are higher than the initial price, and there's also a money-back guarantee for one month.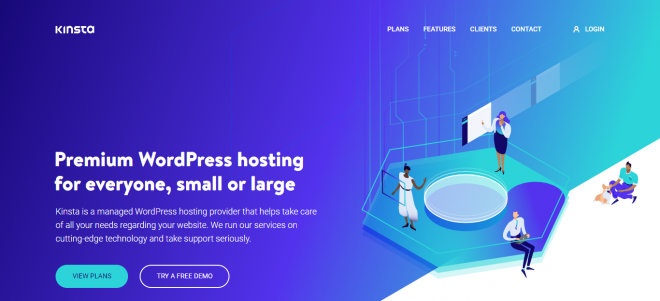 Kinsta
Kinsta is a WordPress hosting provider with a special focus on managed hosting.
It's a newcomer in the hosting market launched in 2013, and it has the full potential and power of cloud-based infrastructures of Google.
Instead of using the standard cPanel UI, the technical team has developed an innovative panel that only shows the most important features you need.
While setting up a new account, you can ask the support team to install WordPress on your account.
There are a 24/7 support chat and ticket system to help you with issues shortly.
The WordPress hosting services start from $30 per month and reach up to $1,500 a month for the most advanced plan called Enterprise 4.
If you choose the yearly billed option, you get two months for free on all services.
A 1-month money-back guarantee is also available on the hosting plans.
To Wrap Up
Picking out an item from the available WordPress hosting services is not always a straightforward task.
You should consider several things such as the type of service, storage, and pricing plans to make your decision-making process more straightforward.
Overall, shared hosting plans are proper for small businesses, whereas the managed hosting options best suit medium to large companies.
Additionally, managed hosting is a perfect choice if you don't have enough time or technical knowledge to take care of the WordPress ins and outs.
We hope you find this guide useful to keep your website performance at its peak level all the time.