To control color options for your online retail store you will be needing a variation swatches plugin.
They give the customers the option to choose various colors for the product they wish to purchase and will immediately get a visual representation on the page.
This is an essential feature for any online shop and without it you will be missing out on potential sales.
Implementing a plugin that handles variation swatches is absolutely essential to enhance the visual appeal of the product and improve the experience for the user.
By creating a visually immersive environment for your users, they will be able to better identify products and browse for more.
This will save the user a lot of time compared to using a traditional dropdown menu for switching between different variations of a product.
What are Variation Swatches?
Variation swatches are artificial layers that you can impose on an element to change something about it such as color, pattern, etc.
And this is not only for a change of appearance for what is already on the page, you can add new items to it.
For example, you can have a variation swatch for a hat added to a dress so that users can see how the whole outfit will look.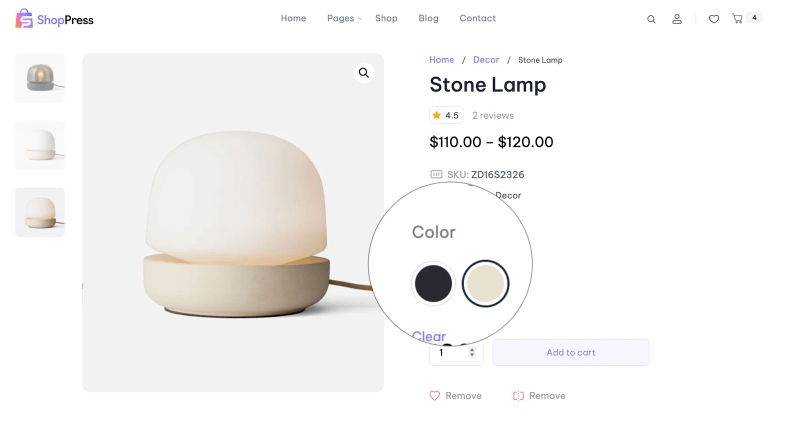 Another important function for swatches is that you can have buttons doing this function as well, such as having several buttons to denote different sizes for the dress.
The possibilities for creating variations are unlimited and this is very important to cater to certain customer groups or individuals that wish to fully customize the item they are about to purchase, provided that you make those variations possible.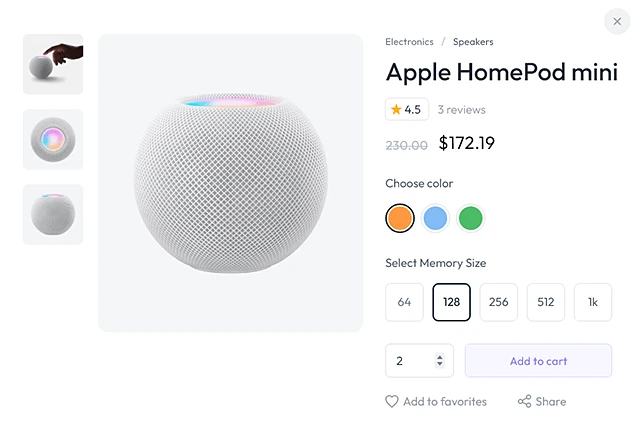 For example, you can have a purple dress with a variation that has stripes, another variation that has white squares on it, and so on.
Why Use WooCommerce Variation Swatches Plugins?
If you are using WooCommerce to run your online shop then having a plugin to manage variation swatches is a no brainer. This way you can easily boost your sales and create a satisfied customer base.
This is achieved by customers being able to easily browse through various products and have a higher chance of making a purchase. Leaving a good impression on people will in turn make it more likely that they return to your website or refer friends to it.
Nowadays it's all about having more options and variation swatches enable you to cover one of the important bases when it comes to variability and desirability.
For a specific product, your shop must offer various options pertaining to size, images, prices and colors. It is often the case that vanilla WooCommerce shops do not have these options. This is an opportunity for you to fill in using a third-party product to improve on this significantly.
WooCommerce variation swatches plugins make it easy for you to customize your shop and reap the rewards long after.
The visual appeal is great for attracting customers and you'll also be able to present a captivating product description for each item, leading to a more pleasurable experience for the user.
Here we have compiled a list of 6 of the best variation swatches plugins for WooCommerce based on their popularity, rating and features.
We have done the necessary testing so that you won't have to do it yourself and can simply make a decision after reading this guide.
ShopPress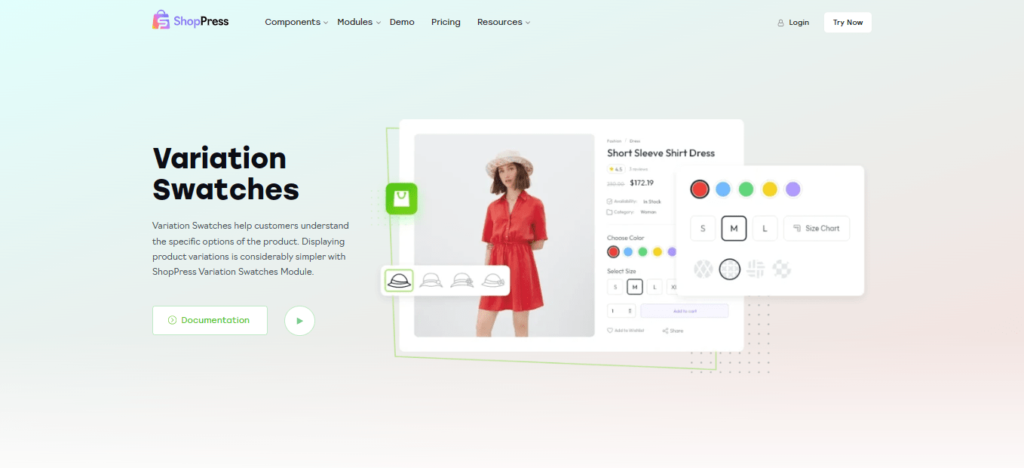 The Variation Swatches feature offered in the ShopPress plugin by Climax Themes is undoubtedly your best investment because you will be getting a dedicated WooCommerce shop builder plugin with all the bells and whistles required to enhance the user's shopping experience.
ShopPress also includes a whole set of useful features and modules that make it easier for you to customize your WooCommerce website.
With its straightforward variation swatches you can create great looking swatches out of the product attribute menu.
Any chosen product variant such as color, button, and image swatches are instantly reflected on the user's screen so they can make an informed purchase based on the visual confirmations of their order.
The prominent features of ShopPress variation swatches are:
Button or label variation swatches
Image variation swatches
Direct variation link to create a link for specific variations if the user wants to send that link to someone else
Its variation swatches work in the quickview.
TH Variation Swatches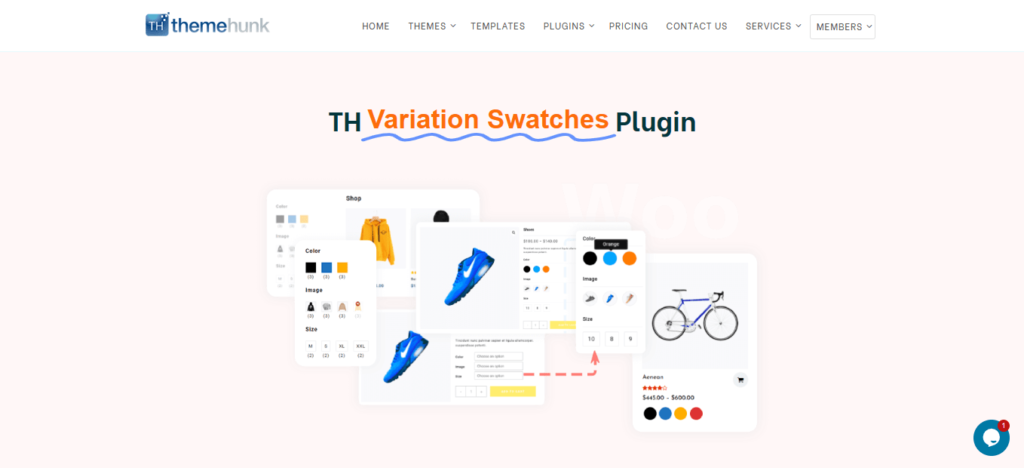 Variation Swatches by ThemeHunk is another optimal solution for WooCommerce websites.
It has an eye-catching and professional interface when it comes to selecting attributes of product variations.
TH Variation Swatches gives you the option to display product variations with different images, colors and labels. It also includes premium features such as tooltip in variation swatches, button variation swatches, round of square styles for the attributes, and more.
With this plugin you'll be able to incorporate various images, labels and colors within a single WooCommerce product and they are usable in the product quick view function.
You can create swatches on the single product page and the shop page. The image variation swatch is especially useful if your product has several color options.
Variation Swatches for WooCommerce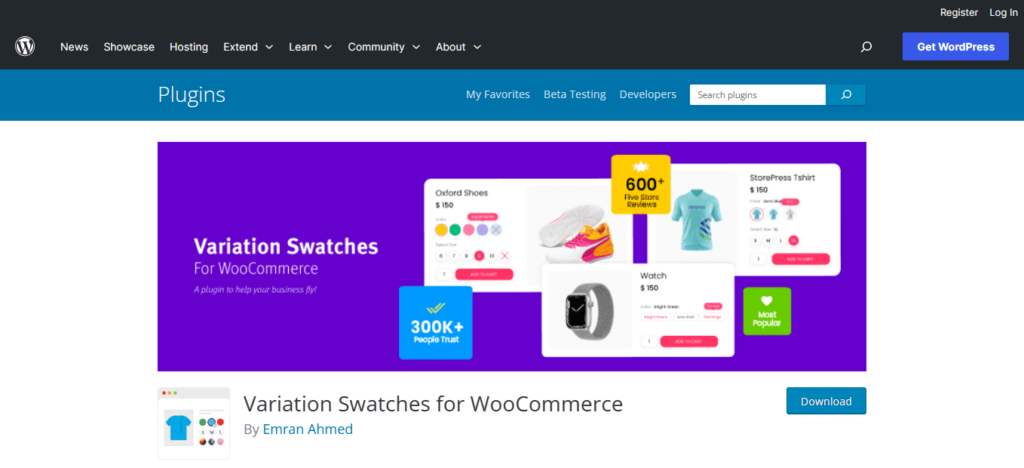 One of the most popular and most downloaded plugins in the WordPress repository is Variation Swatches for WooCommerce. It may have fewer features compared to the rest of the options on this list but it is very user-friendly and easy to work with, which makes it the ideal option for some people.
It has a nice interface for selecting attributes for variation products and allows for the integration of color, image and label within a single product in WooCommerce.
The free version of Variation Swatches for WooCommerce gives you the ability to create swatches for attributes such as size, brand, image, color and label.
In addition to that, you can customize the shape of the swatches with options to choose from between rounded or circle shapes.
WCBoost Variation Swatches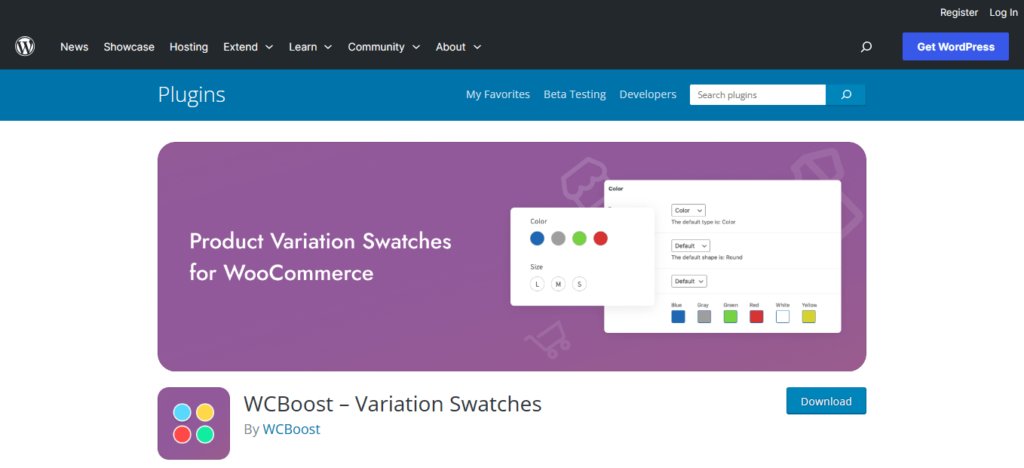 WCBoost Variation Swatches is a great option for your online WooCommerce shop.
It gives you the option to define a style for each attribute, making it possible to choose color, image, label or button formats. Granting you the capabilities you need to go beyond what WooCommerce alone offers.
With WCBoost Variation Swatches plugin you will have your products look on the website as well as you want them to, ensuring great design philosophy and customer satisfaction.
There are other customization options here such as personalized swatch profiles, display variation swatches within widgets and custom CSS customizability.
YITH WooCommerce Color and Label Variations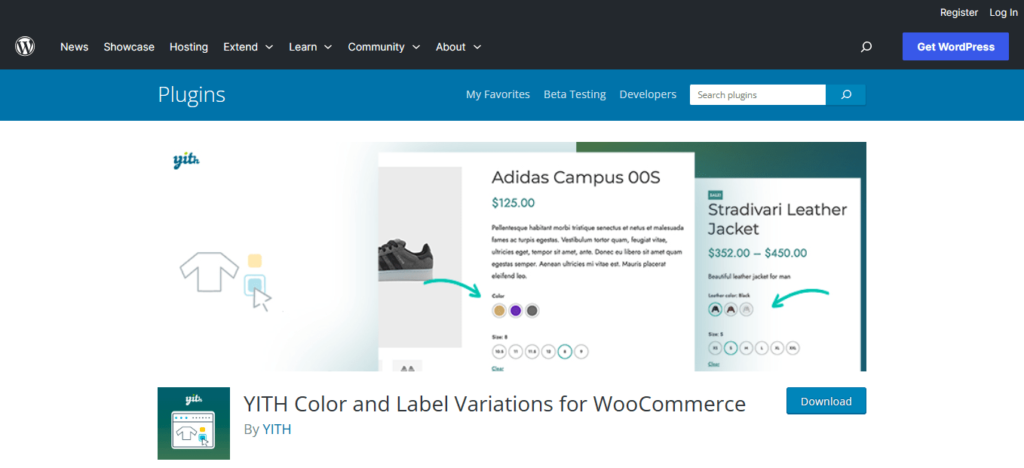 YITH WooCommerce Color and Label Variations is a user-friendly and efficient method to customize your WooCommerce website via swatches that manage color and photos.
YITH is a powerful plugin with which you can replace the default product detail options of WooCommerce and use the icons, images and labels that you have created yourself.
With a potential for unlimited number of variations for a product, you can make a customer's job a lot easier when it comes to choosing what they want to buy.
This is done through eliminating the navigation process through various pages by the users and having everything they want in one place.
ProductX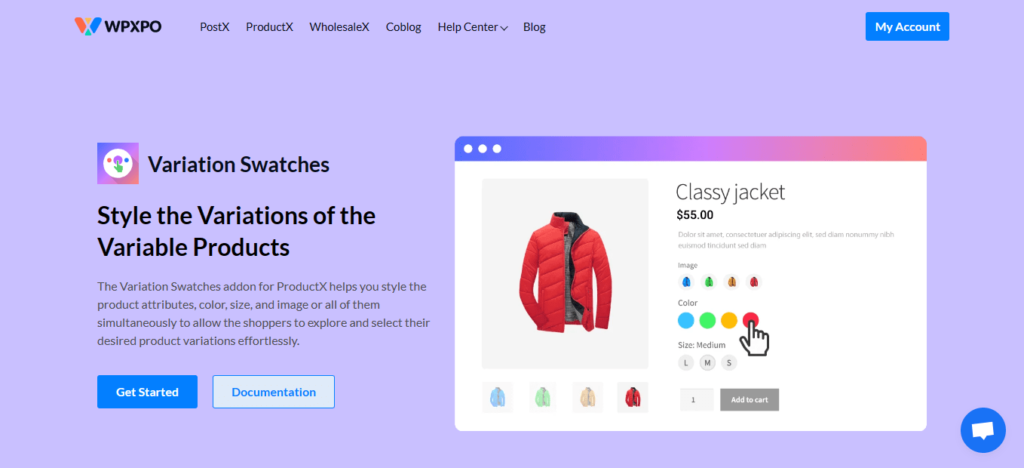 ProductX WooCommerce Builder is another great option that provides amazing results with minimal effort. For us, its most important feature are the variation swatches that enable you to display different swatches for your products.
With ProductX WooCommerce Builder you can change the look of size labels how you like and also display swatches for product size. It can also show custom product size labels according to product attributes.
Smart Variation Swatches for WooCommerce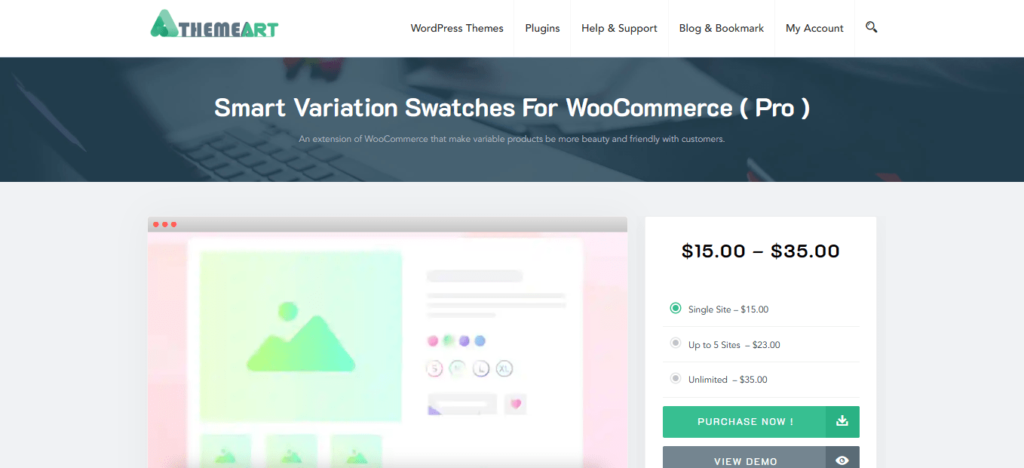 Smart Variation Swatches for WooCommerce boasts impressive features that optimize product variation management in WooCommerce.
It also makes it easier to display buttons and image and color swatches on the attribute management page. All of this will nicely guide users when selecting a product and lead to better user experience.
Smart Variation Swatches has additional features such as catalog management and assigning images across different products or the option to disable thumbnails. All of these features are parts of designing a great user experience and getting ahead of the competition.
Final Thoughts
Well, there you have it. A list of top 6 WooCommerce Variation Swatches plugins that was derived from certain criteria such as installations, downloads, features and user ratings.
The standout option here is ShopPress as it is very easy to work with and is not just a variation swatch manager but a full-on product for designing a WooCommerce shop, including product pages, checkout pages, thank you pages, etc.
ShopPress gives the most options and control over variation swatches with features that allow you to customize buttons, images, dropdowns, and many more.
But any of the options in this list can do more than a fine job. There are free versions and paid versions of these products and you can view them on their own websites to see which one suits your needs better.
Let us know in the comments what you think and which one of these is better in your opinion. Is there an item that should be on this list but isn't? Share your experience with us.