The number of visitors you attract is a key factor for your online success.
Grabbing the attention of your website audiences and encouraging active engagement should be among the most important goals for your activities on the internet.
The better engagement you make, the higher the chances you'll have to get people to return to your site.
Push notification services are perfect tools to keep your content at the storefront of people's minds.
Using these services, you'll keep your audience in the loop of your site's new updates and content, even when they're not visiting it.
Thanks to the powerful features of WordPress, it allows you to send push notifications to both desktop and mobile devices and inform them effectively about your latest updates.
Today we're going to talk about what these notifications exactly are and introduce some of the best push notification tools you can use for your WordPress website.
What Are Push Notification?
A push notification is a message or small clickable note your website sends to previous visitors automatically.
The users should have already accepted to receive these notifications by allowing them on the pop-up that appears when they open your site.
Website visitors who enable your site to push notifications to them will always see your offers, news updates, and articles on their devices immediately after you publish.
Now, if your push notification subscribers are online, they immediately receive the notification on their device.
Otherwise, the offline users will see the notification right after connecting to the internet.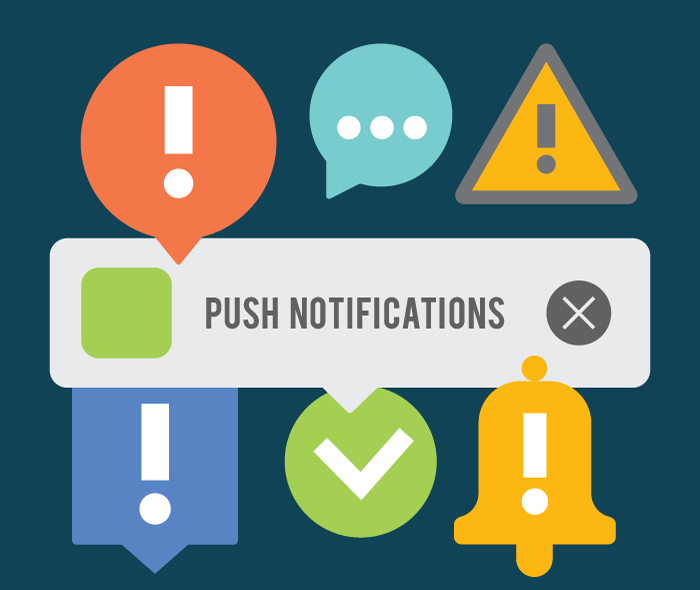 However, are push notifications always helpful?
Generally speaking, these notifications encourage people to return to your site for new content updates and therefore increase your website traffic.
It's a good metric to show you who exactly is interested in what you do since they opt in to receive them in the first place.
Also, push notification services to get you closer to your business goals and generate more sales or building communities.
On the other hand, sending too many notifications can result in losing your audience and website visitors.
People don't like to see repeated notifications reminding them of your website because it gets annoying after a while.
So it's essential to set the number of push messages appropriately, neither too much nor too few.
Website owners commonly use the following types of push notifications on their site:
Reminders and personalized notifications
Marketing notifications
Website update or new content notification
Location-based and time-sensitive notifications
Setting up push notifications is an easy task, and you can activate them by installing WordPress plugins.
Nonetheless, you should have installed a reliable WordPress plugin in advance that supports these plugins and their settings thoroughly.
Having a professional and well-coded WordPress theme is essential for running your website at its peak performance, and put notifications are no exception in this regard.
List of Best Push Notification Tools for Your WordPress Website
The following list covers the most popular push notification tools used by many website owners around the world.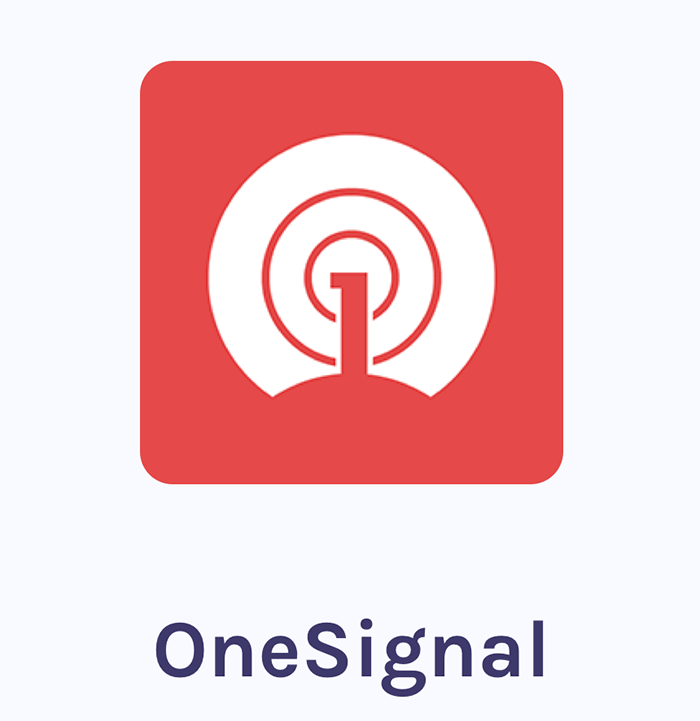 OneSingal – Free Web Push Notifications
OneSignal is a popular and free plugin for push notifications that allows you to send automatic messages to your website visitors.
It currently has more than 100,000 active installations with a user rating of 4.3 out of 5.
You can schedule and automate notifications separately for online and offline users and target the users who haven't visited your site for a long time for reminders.
The plugin offers great versatility to notify people based on different attributes like their location or language.
Moreover, you can schedule pop-ups for some time in the future and deliver them to your customers at the best time.
The provided analytics tools are likewise perfect assets to see how your push messages perform and make the necessary adjustments where necessary.
The ability of data import and export is another useful feature of OneSignal, allowing you to use the data in other tools, too.
This plugin sets no limit on the number of notifications you send or the devices you use.
Therefore, no matter if you own one website or manage plenty, the free options of OneSignal will meet your needs most conveniently.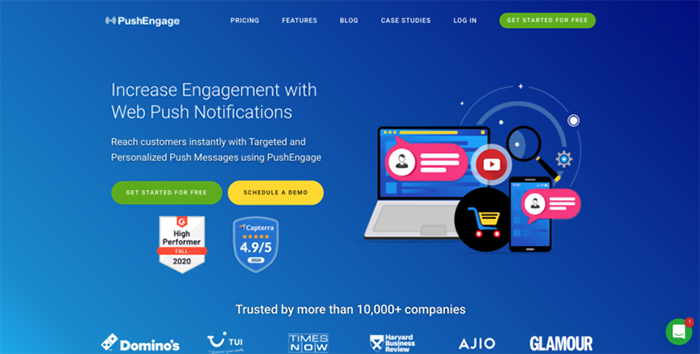 PushEngage Web Push Notifications
PushEngage is a standalone service for push pop-ups on desktop or other devices.
The platform has a special plugin for WordPress websites that simplifies sending push notifications.
It offers several options to send your push messages in a smart approach.
One of the differences between PushEngage and other products is that it doesn't require the implementation of HTPSS to send push pop-ups.
You can manage multiple sites with this tool and define roles for other team members to access and control the settings.
Also, there are plenty of Custom Segments to personalize the messages in the way you prefer.
If you sell products and services online, eCommerce-specific tools such as cart abandonment will help you a lot in increasing sales.
These options will notify members about their pending orders or drops in their favorite prices and encourage them to return to your site.
Unlike OneSignal, the free services of PushEngage are limited.
It supports no more than 2,500 subscribers, and you can only send 120 notifications every month.
It currently runs on Firefox and Chrome, but the Safari browser is not supported yet.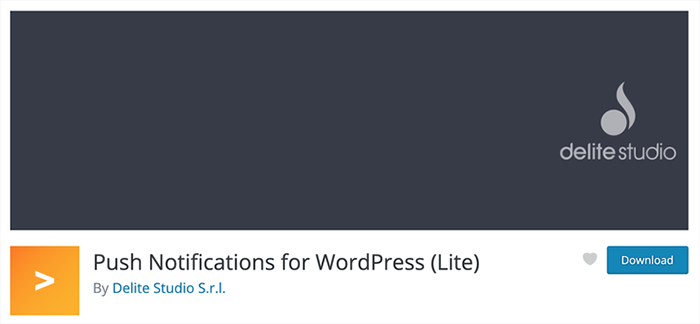 Push Notifications for WordPress (Lite)
The Push Notifications for WordPress plugin sends push notifications to all operating systems.
This tool sends these notifications directly from your WordPress site, and it's most appropriate for personal blogs or newly-launched small websites.
Using the free version of this plugin, you can't send more than 1000 messages per platform for each of your notifications.
Plus, the free version only supports mobile devices.
Safari, Mozilla, and Chrome browsers are fully supported in the premium plans.
You can gain the advantage of in-depth insights straight from your WordPress dashboard to see how you perform by the notifications you send.
If you worry about the abundance of notifications that annoy users, this tool has you covered.
It allows your users to choose from the notifications and only receive the ones they like.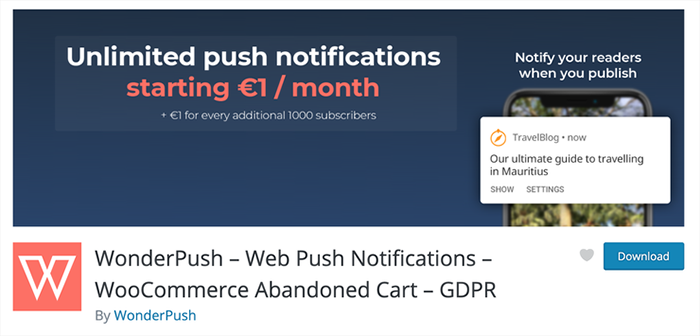 WonderPush
WonderPush allows you to send stylized push notifications to engage users to subscribe.
The automated notifications function is based on your website visitors' behavior, and you can monitor all your business progress activities through a modern dashboard.
It runs in excellent compatibility with Chrome, Opera, Mozilla, and Edge browsers so that you can cover a wide range of audiences.
The built-in customization features of WonderPush makes it a standout item compared to other products.
You can limit the pop-ups according to the tags and languages and also inform users about their abandoned carts.
WonderPush is a premium service, and the available plans start from €1/month.
However, there's a two-week trial option you can use to put everything into a test and see how it actually performs.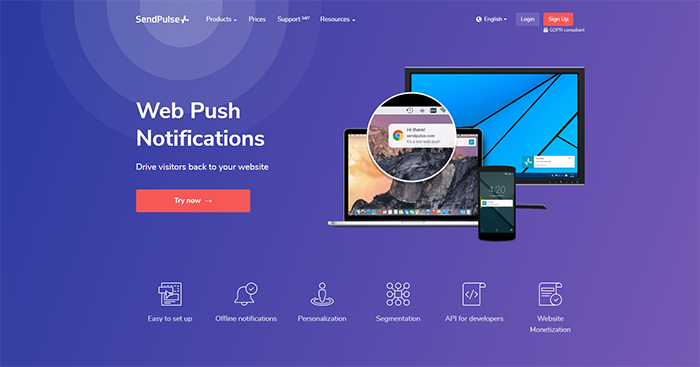 SendPulse
SendPulse is a multi-channel service allowing you to send different kinds of messages to your website visitors.
Either you use web push, email campaigns, or SMS, this all-in-one platform will cover your needs entirely.
SendPulse provides you with real-time analytics to let you see how many of your notifications have been performing better according to several factors.
Customizable segments, A/B testing, support for offline push notifications, and compatibility with various browsers are among the other notable features of this tool.
You can also use this plugin to trigger notifications by different factors or send messages automatically once some conditions are met.
The free plan of SendPulse supports no more than 2,500 subscribers and 15,000 push pop-ups a month.
Therefore, if you need services for more users, you need to upgrade to a premium plan.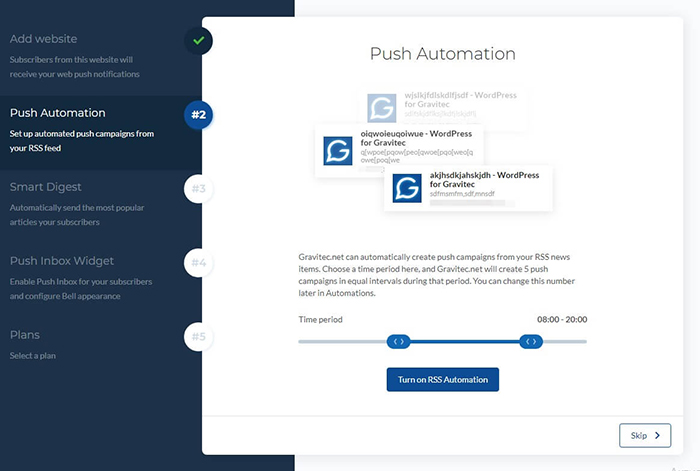 Gravitec
Gravitec is a cost-effective and speedy plugin that functions efficiently on all devices.
It lets you notify your website visitors about new updates and offers plenty of advanced features.
It works perfectly on both desktop and mobile devices, so you can be confident that everyone sees your notifications.
Using Gravitec, you can automate notifications based on RSS feeds and spread the word about your campaigns to attract new visitors to your site.
Subscription prompts alongside push digest will also make it simpler for you to send push pop-ups effectively.
The developer team offers a generous free plan for the plugin by which you can have up to 30,000 subscribers without paying any money.
The number of notifications and level of features is the same as the premium packages.
But if you plan to send push notifications to more than 30,000 subscribers, you need to go for a paid plan starting from $4.

Fire Push
Fire Push is one of the push notification tools that allows you to add HTML5 notifications to your site easily.
Several options are available in the plugin that let you customize the titles, icons, texts, and links to make the push just the way you want.
The plugin allows you to send live notifications when users are visiting your pages and also while they're browsing other sites on the web.
Full support of WooCommerce will also add to its functionalities to inform people about new products and other updates and drive more traffic to your online store.
Fire Push is a premium product, and it costs $19.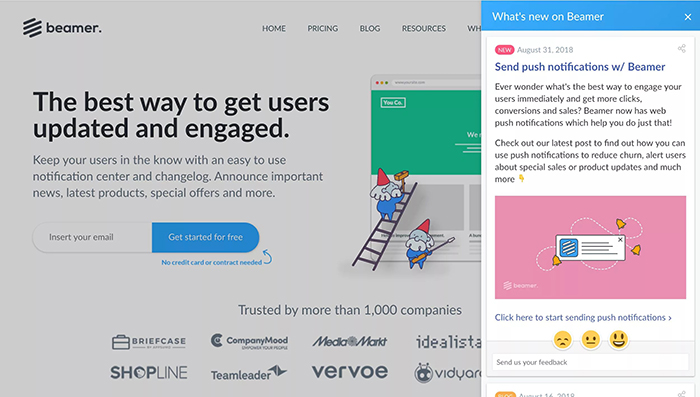 Beamer
Beamer is another free all-in-one push notification platform that provides you with scheduled notifications and posts for different activities on your site.
You can easily install and run the plugin on your site within a few minutes and publish notifications with custom colors and notice types.
Support of feedback through ratings and comments is another highlight of Beamer among the push notification services.
To make your push pop-ups more engaging, you can incorporate CTA links, videos, GIFs, and images in your messages.
After you install Beamer, the notification center appears as a sidebar on your WordPress admin panel, from which you can access all the features right away.
You can start using Beamer for free, but the extra features are only available in the premium plans starting at $99 a month.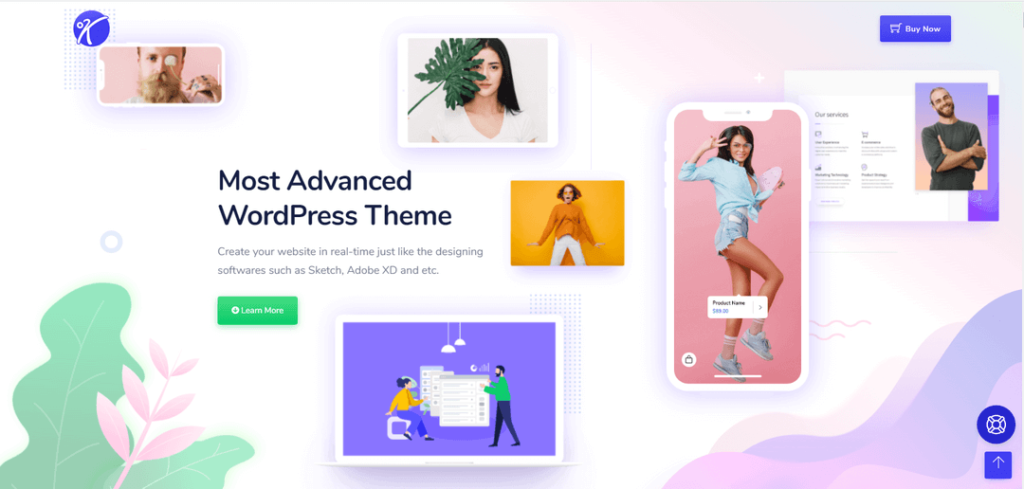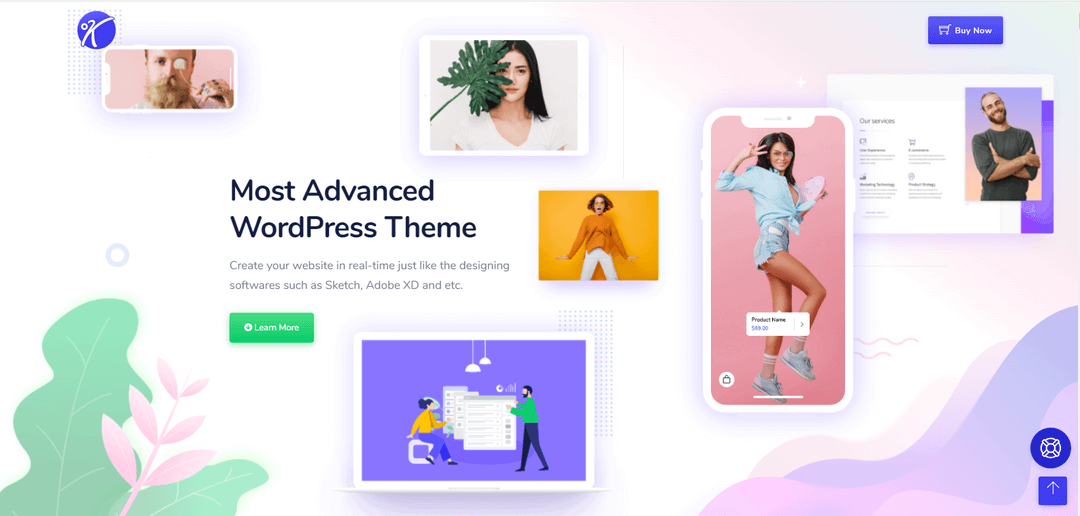 Kata: A Powerful Theme to Support Push Notification Services
As mentioned earlier, you need a powerful and fully functional WordPress theme to benefit from push notifications in the best way.
If your theme can't support the relevant services and settings, none of the mentioned products will work effectively on your site.
Kata is a professional theme that runs using the latest WordPress updates and standards.
It functions pretty fast and comes with an assortment of customization options to build and run the website you need within a few clicks.
Kata comes in complete compatibility with WooCommerce and supports the push notification tools completely.
No matter if you use the free version of Kata or purchase a premium license, you'll rest assured that you deliver push pop-ups to your website visitors efficiently.
You can start with the free plan to see how things function and then upgrade to a Pro version to unlock the full features.
The Bottom Line
Push notification services are among the most popular marketing assets that help create a direct connection with your audience.
These services allow you have returning visitors, increase website traffic, and consequently, have more revenues.
Here we introduced eight plugins to help you enjoy push notifications easily without having to write or make changes in your site's codes.
Depending on your needs, you can either try the free products or go straight for the premium ones.
Whatever services you choose, don't forget to balance your activities and the number of push messages you send to avoid leaving negative impacts on people.