Launching a WordPress website is often an easy task. But when you decide to move your WordPress site to another hosting service, things can get very complicated.
Let it be because of unreliable customer service or repeated downtimes that have negatively impacted your site, moving data from one web host to another can get challenging if you don't know exactly how to do it.
If you're a well-versed user, you can manually move your site by going through several steps. Otherwise, you'd better go for the WordPress migration plugins that handle all the required tasks automatically.
The second option is a less stressful approach, even for tech-savvy users since these plugins are developed in a way that moves the database and files flawlessly.
Here we're going to introduce the top five plugins to transfer your files and data safely. These tools provide you with a comfortable experience, so you won't have to worry about data loss or downtimes.
1. Duplicator (Free and Premium)

Duplicator is one of the most reliable WordPress migration plugins coming with great versatility. As the name suggests, it's also a great plugin to clone your site and copy the files to a new location, either on a local server or a live one.
These features have made Duplicator a proper choice for website backups on local machines, too. The interface allows you to choose whatever items you need to download with just a click.
If you're going to develop your site and make significant changes to it, Duplicator will come in handy to transfer all your data into a local server and apply the changes to see how they perform.
If you need basic features to migrate your site, the free version will suffice. Else, you can pay for a premium membership and unlock plenty of other options.
The multisite migration feature is one of the useful features included in the paid plans. This option makes it easy for business owners who manage multiple websites to move all of them to a new hosting service in the easiest way.
Duplicator Pro is available in four plans:
Personal: $69 with a year of support and updates, and it can be used on three websites.
Freelancer: $89 with a year of support and updates, includes power tools and can be used on 15 websites.
Business: $149 with a year of support and updates, includes multisite plus and power tools and can be used on an unlimited number of sites.
Gold: $999 on-time payment for full features and lifetime updates.
After a year, you can renew all the packages for 40% off the first price, except the gold package that doesn't require renewals.
2. All-in-One WP Migration (Free and Premium)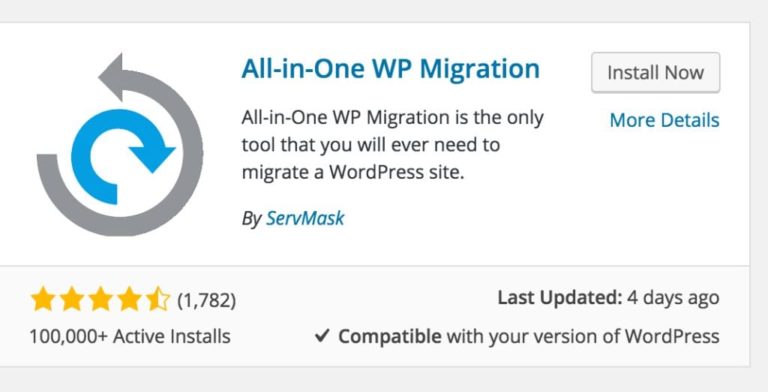 The All-in-one WP Migration plugin highly focuses on beginner users who want to move their website to a new web host.
With more than three million active installations and above 5000 five-star ratings, it's one of the best WordPress migration plugins that ensures you of the easiest and fastest experience.
A significant advantage of All-in-One WP Migration is its drag-and-drop interface by which  you can upload your website to a new web host in the easiest way. Moreover, the developer team has promoted partnerships with plenty of famous hosting service providers around the world.
This cooperation minimizes the chances of running into technical issues or other problems while transferring your site.
Additionally, you won't ever need to change the WordPress file limits when using this plugin. The All-in-one WP Migration plugin segments your files into pieces below 2 MB and uploads them one by one.
Therefore, you'll never face any issues regarding the default file size limits.
This plugin is an open-source product, but you can unlock additional features such as using WP CLI commands by purchasing a premium license through one of the options below:
Personal: $69 one-time payment for non-business use.
Business: $29 a month in addition to the 69$ one-time payment.
If you choose the Personal option, no business invoices will be issued for you.
3. Migrate Guru (Totally Free)

The next item on our list of WordPress migration plugins is a perfect solution for those who want to move a large website or a multisite network. Migrate Guru enables you to transfer large files up to 200 GB without any problems.
This great advantage has put this product ahead of the competition when it comes to migrating large sites.
Using Migrate Guru, you won't have to worry about your website's load or potential crashes since all the migration steps happen on this plugin's servers. So no storage and power will be occupied from the server you use.
You neither need additional plugins to complete the process nor be concerned about your big site.
You can benefit from all the powerful features of this plugin for free without paying any money. Real-time progress reports, compatibility with all hosting service providers, and excellent multisite support are all fully available to you at no cost.
This tool's user-friendly interface makes it most comfortable for you to migrate a whole website with just a click.
However, if you want your migration plugin to handle your site's backup as well, you should think twice before choosing Migrate Guru.
4. UpdraftPlus (Free and Premium)

UpdraftPlus is originally a WordPress backup tool. With more than three million active installations, you can use this tool to make a full backup of your site with just a mouse click.
Then, all you need to do to transfer your site to another server is to restore the backup in the new location. Both of these steps will be done quickly and flawlessly without having to take the necessary steps manually.
UpdraftPlus comes in complete integration with cloud storage services such as Google Drive and Dropbox.
You can easily schedule automatic backups, save your data on these services, and then restore them to the new server you need. Moreover, it's a perfect plugin to make your website live if you've developed it on a local server.
The backup options are available in the free version. However, purchasing a premium license gives you more functionalities like quick migrations and incremental backups. The pricing packages come in five options:
Personal: $70 a year for two websites and $42 for renewals.
Business: $95 a year for ten websites and $57 for renewals.
Agency: $145 a year for 35 websites and $87 for renewals.
Enterprise: $195 a year for unlimited websites and $117 for renewals.
Gold: $399 a year with additional features such as add-ons and a UpdraftCentral cloud subscription.
The Gold package is the ultimate choice if you like to use the premium version of this plugin, but the 40% renewal discount will not be applied.
5. BackupBuddy (Only Premium)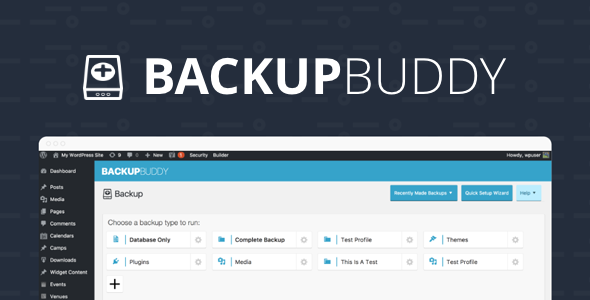 Using BackupBuddy, you can make backups of your site, restore previous versions, and move it to a new web host. It's a product of iThemes and has gained a great reputation since it was released.
This plugin, similar to the previous item, best fits users who mainly focus on a backup tool that supports website migration as well.
So it's one of those WordPress migration plugins that you can use to download website data and restore it to another place safely. You can backup your data to could services such as Dropbox and Google Drive and download them on your new server directly.
Additionally, there's a dedicated feature in this tool for website migration allowing you to change web hosts quickly with no risks of data loss. If you're a web developer, you can also benefit from its cloning feature.
BackupBuddy doesn't offer any free versions. However, you can expect more reliable customer support since you're paying for the product. There are four packages available to purchase, and the details are as follows:
Blogger: $52 per year for one website with a year of updates and support, coming with 1GB of BackupBuddy Stash storage.
Freelancer: $83 per year for ten websites with a year of updates and support, coming with 1GB of BackupBuddy Stash storage.
Gold: $130 per year for unlimited websites with a year of updates and support, coming with 5GB of BackupBuddy Stash storage.
Lifetime: $357 per year for unlimited websites with a year of support and permanent updates, coming with 1GB of BackupBuddy Stash storage.
Unlike the other WordPress migration plugins, there's no discount for renewals, but you can cancel your subscription any time you like.
Website migration can be challenging if you don't use the proper tools. Even though you can transfer your site manually if you have enough technical knowledge, WordPress migration plugins can facilitate everything extensively.
Each of the five plugins we mentioned here is right for a particular condition.
Duplicator is a comprehensive solution offering the basic website migration features for free while providing additional capabilities in premium plans.
All-in-one WP Migration is also a perfect pick coming with an easy-to-use interface suitable for both beginner and advanced users. Migrate Guru is the best choice for large sites, and it's free.
You can consider Updraft Plus and Backup Buddy if you prioritize a tool with quality backups that also offers migration capabilities.